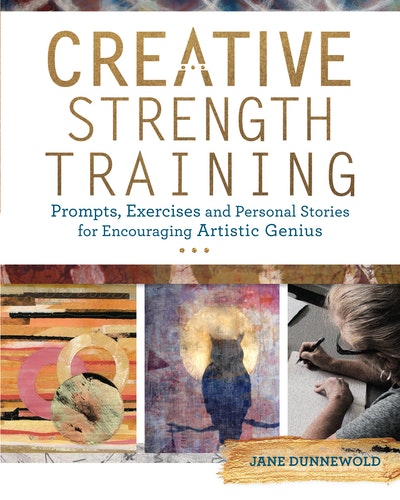 Published:

10 June 2016

ISBN:

9781440344954

Imprint:

Penguin

Format:

Paperback

Pages:

144

RRP:

$49.99
Creative Strength Training
Prompts, Exercises and Personal Stories for Encouraging Artistic Genius
---
---
Discover a Deeper Connection to Your Artist Self!
Artists and athletes alike benefit from strength training. Building creative stamina takes encouragement, mentoring, and regular practice. In Creative Strength Training, you'll discover powerful strategies that combine writing and hands-on art-making to overcome creative stumbling blocks, develop a unique voice and make creating art a regular habit.
   • Overcome resistance while dismantling "the Committee" (that group of inner critics).
   • Explore 10 exercises for making art that stands apart as uniquely yours.
   • Receive support and inspiration from contributing artists who share how each chapter has improved their practice and helped them evolve.
Begin a fresh approach to your creative practice. Begin building stamina today with Creative Strength Training!
"In a world of bookshelves lined with self-help guides to overhauling ourselves, Jane Dunnewold gives us, instead, a way to discover ourselves. Creative Strength Training is a gift to the artist just starting out, and a powerful resource for those of us who feel like we may have grown stale." --Mary Fisher, artist and AIDS activist
"Jane's approach will resonate with anyone who has ever been stymied in his or her attempt to be original and creative. She guides readers on a journey of self-discovery to seek the core of the creative spirit. This newfound self-awareness and confidence is sure to unleash brand new avenues of creativity for those who read this important new work." --Maureen Hendricks, owner of Gateway Canyons Resort, home of Alegre Quilt Retreat
"Jane Dunnewold's approach to the creative process is as refreshing as it is realistic--building stamina means making your art a priority. This method feels at once personal and prolific--a must-have for anyone looking to push his/her boundaries." --Joe Pitcher, founder of textileartist.org
Published:

10 June 2016

ISBN:

9781440344954

Imprint:

Penguin

Format:

Paperback

Pages:

144

RRP:

$49.99