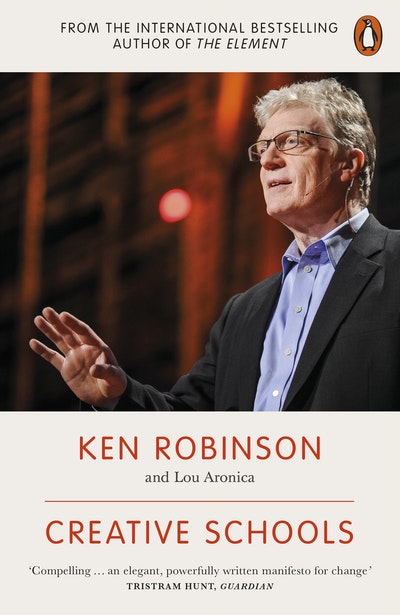 Published:

2 May 2016

ISBN:

9780141978574

Imprint:

Penguin Press

Format:

Paperback

Pages:

320

RRP:

$24.99
Creative Schools
Revolutionizing Education from the Ground Up
---
---
---
An inspiring book on how we can change our education system, from the bestselling author of The Element.
In Creative Schools Ken Robinson sets out his practical vision for how education can be transformed to enable all young people to flourish and succeed in the 21st century.
Written with Robinson's trademark wit and engaging style, and filled with practical examples, anecdotes and ground-breaking research, Creative Schools highlights the people and projects that are already revolutionizing education through innovative approaches to teaching, learning and school culture.
Published:

2 May 2016

ISBN:

9780141978574

Imprint:

Penguin Press

Format:

Paperback

Pages:

320

RRP:

$24.99
Praise for Creative Schools
One of those rare books that not only inspires and brings a new sense of possibility to the goal of transforming education, but also lays out an actionable strategy . . . This is a global game-changer and I'm in.

Brené Brown, Ph.D., author of Daring Greatly
Ken Robinson's thesis is compelling . . . Creative Schools brings together his classroom experience and policy ardour in an elegant, powerfully written manifesto for change.

Tristram Hunt, Guardian
Wonderful and enjoyable

Malala Yousafzai, Nobel Prize Laureate
A comprehensive and compelling statement of why creativity matters for everyone, what it looks like in action, and how to get there. Inspiring and so readable you will feel Sir Ken is talking directly to you.

Andy Hargreaves, author of Professional Capital
This book is a wake-up call to the emerging global human resources crisis . . . a must-read.

Pasi Sahlberg, author of Finnish Lessons 2.0
Forget the chatter about disruptive technological and economic forces in education. Ken Robinson and Lou Aronica vividly describe the disruptions that are needed if we are to have quality education in our time.

Howard Gardner, author of Five Minds for the Future
Ken Robinson is the world's most potent advocate of global education transformation; his clarity, passion and insight have inspired millions, including me. This book is not only a catalyst, or call to action; it is a manifesto; a practical exploration and celebration of what is possible. Now it's up to us; we must read, react and accelerate the revolution

Richard Gerver, author of Creating Tomorrow's Schools Today