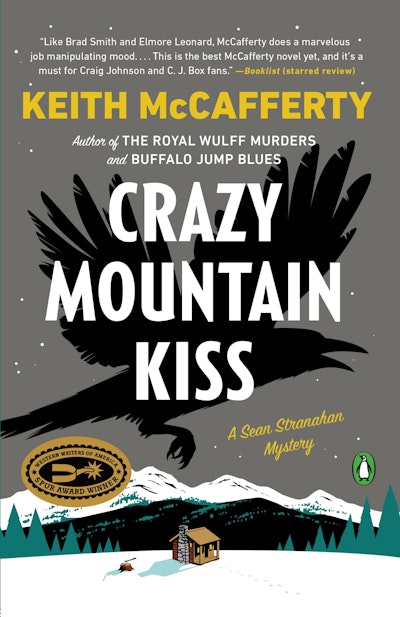 Published:

15 January 2017

ISBN:

9780143109051

Imprint:

Penguin

Format:

Trade Paperback

Pages:

352

RRP:

$29.99
Crazy Mountain Kiss
A Novel
---
---
Winner of the Spur Award for Best Western Contemporary Novel
In the fourth novel in the acclaimed Sean Stranahan mystery series, PI Stranahan and Sheriff Ettinger reunite to investigate a teenage girl's death. Cold Hearted River, the sixth in the series, is now available. 
Spring snow still clings to the teeth of Montana's Crazy Mountains when an unsuspecting member of the Madison River Liars and Fly Tiers Club discovers a Santa hat in the fireplace ashes of his rented cabin. Climbing to the roof to see what's clogging the flue, he's shocked to find the body of a teenage girl wedged into the chimney. A rodeo belt buckle identifies the recently deceased victim as Cinderella "Cindy" Huntington, a rising rodeo star. Hyalite County sheriff Martha Ettinger has been hunting for the girl since she went missing the previous November.
Was Cindy murdered? Or was she running for her life—and if so, from whom? Suspicion falls on a buckskin-clad mountain man who calls himself Bear Paw Bill. But Etta Huntington, Cindy's high-strung mother, herself a famous horsewoman, thinks the evil might lie closer to home. She hires fly-fishing guide and private detective Sean Stranahan to find the answers. Setting aside their after-hours relationship, Sean and Martha find themselves deep in an investigation that grows to involve a high-altitude sex club, a lost diary, cave pictographs, and the legends of the Crazy Mountains. With his signature wit and wry humor, McCafferty writes a pitch-perfect mystery that is as haunting as the Crazies.
Published:

15 January 2017

ISBN:

9780143109051

Imprint:

Penguin

Format:

Trade Paperback

Pages:

352

RRP:

$29.99
Praise for Crazy Mountain Kiss
Praise for Crazy Mountain Kiss "McCafferty does a marvelous job of manipulating mood, moving from light to dark... [Crazy Mountain Kiss] is the best McCafferty novel yet, and it's a must for Craig Johnson and C. J. Box fans."—Booklist (Starred) "This is a must for fans of eclectic mysteries in which the setting is just as important as the characters."—Publisher's Weekly (Starred) "Stranahan's fourth case blends humor with heartbreak, all flavors of eccentricity with a struggle for normalcy, and a natural backdrop that can make even the most powerful humans and their deeds look small."—Kirkus Praise for Dead Man's Fancy "McCafferty's beautifully written third mystery….The complex, multilayered story smoothly switches from one character to another."—Publishers Weekly (Starred) "McCafferty knows his country and his characters, who have a comfortable, lived-in feel and yet shine as individuals….[his] understated prose deserves to be savored."—Kirkus "[Dead Man's Fancy] delivers a carefully plotted western procedural….Good reading for fans of [C. J.] Box, Craig Johnson, Nevada Barr, and Paul Doiron, although McCafferty has his own distinctive voice."—Booklist "McCafferty's third series entry lassos up a range of topics—wolf reintroduction, wilderness living and survival, animal rights—that are uncovered through his protagonists' meticulous sleuthing."—Library Journal Praise for The Gray Ghost Murders "This is a truly wonderful read.  In an old and crowded field, Keith has created characters fresh, quirky and yet utterly believable, then stirred them into a mystery that unfolds with grace and humor against a setting of stunning beauty and danger.  Stranahan, the fisherman sleuth, breaks free of the old cliche's and delights with his humanity, vulnerability and love of cats.  Yes, cats.  Keith has written a book that speaks to women and men regardless of color or background.  The only downside of this book is that we must wait a year for the next one."—Nevada Barr, New York Times bestselling author of the Anna Pigeon Mysteries   "Even amid the serene trout streams of Montana, Sean Stranahan can't seem to stay out of trouble—and there's a heap of it in this bracing second adventure for the fly fisher/painter/PI… Field & Stream editor McCafferty skillfully weaves Big Sky color, humor, and even romance (in the form of Sean's stunning new girlfriend, Martinique, who's bankrolling veterinary school by working as a bikini barista) into the suspenseful plot as it gallops toward a white-knuckle. . . climax. The book's biggest lure, however, remains Sean and his rugged band of Montana individualists."—Publishers Weekly   "Think big-city CSI teams have it tough? Their examinations of crime scenes are hardly ever interrupted by a grizzly bear like the one that sends Deputy Harold Little Feather to the hospital…Irresistible."—Kirkus Reviews  "Firmly set in the Montana wilderness and populated by well-drawn characters. This series will appeal to fans of Nevada Barr and C. J. Box as well as to fly-fishing devotees."—Booklist  From the Hardcover edition.