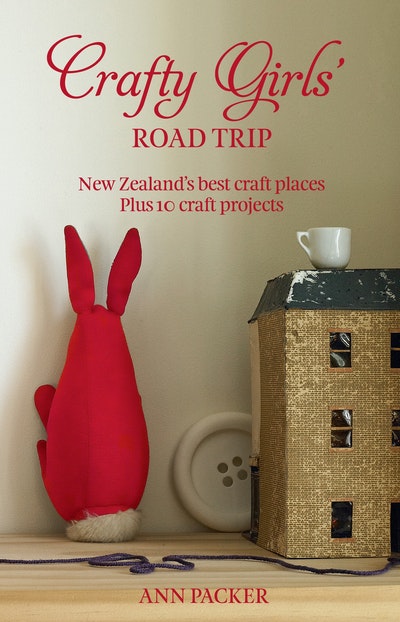 Published:

29 October 2004

ISBN:

9781869416584

Imprint:

Random House NZ

Format:

Paperback

Pages:

198129

RRP:

$27.99
Crafty Girls' Road Trip
---
---
---
A guide to the many places in New Zealand where 'crafty girls' can buy supplies as well as finished crafts. Aimed at those who get warm fuzzies just walking into a wool shop, simply have to stroke the fabric at the quilt store, and long to touch the textiles at museums, this round-up of New Zealand's craftiest places will go down a treat.
Because crafty girls need to know where to get their fix in a strange town, the book lists treasure troves for embroiderers, patchworkers, knitters, spinners and other crafty types to find not only materials but inspiration on the road. And because they need frequent cups of coffee to fuel their journey and somewhere to lay their head, the book includes some favourite places along the way.
Organised geographically, CRAFTY GIRLS' ROAD TRIP covers these regions: North of Auckland; Auckland; Waikato/Bay of Plenty/Taupo; East Coast North Island; Taranaki/Manawatu; Wellington/Wairarapa; Top of the South Island; Canterbury; Dundein/Central Otago/Southland.
It also has suggested itineraries for a day, a weekend, a long weekend, a week in each of the regions; as well as giving details of mail-order suppliers and a diary of events.
Ann Packer is a Wellington freelance journalist with a strong interest in craft. She currently contributes to the Dominion Post, North & South, NZ House & Garden and NZ Quilter. At various times in her life she has been a knitter, spinner, weaver, dyer and embroiderer. And she loves to shop for fabric and fibre - with plenty of coffee breaks.

Published:

29 October 2004

ISBN:

9781869416584

Imprint:

Random House NZ

Format:

Paperback

Pages:

198129

RRP:

$27.99