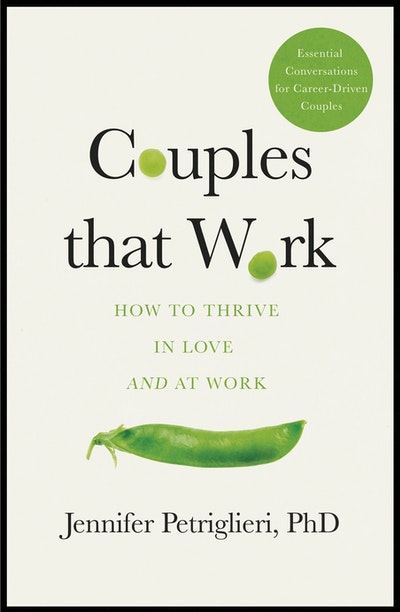 Published:

10 October 2019

ISBN:

9780241379011

Imprint:

Penguin eBooks

Format:

EBook

Pages:

304
Couples That Work
How To Thrive in Love and at Work
---
---
---
Acclaimed professor reveals how working couples can successfully combine love and work
Finding fulfilment in both love and work isn't easy--but it is possible.
Most advice for working couples fails because it treats the challenge of balancing two careers as a zero-sum game in which one partner's gain is the other's loss. This book is different.
In Couples That Work, professor Jennifer Petriglieri shifts away from the language of sacrifice and trade-offs, and focuses on how couples can tackle the challenges they will face throughout their lives--together.
Petriglieri identifies three key phases of exploration and growth in every couple's work-life journey and provides tools to help couples navigate three pivotal questions together:
· How can we make this work?
· What do we really want?
· Who are we now?
Based on five-years research interviewing over a hundred couples from thirty countries, Couples That Work is filled with vivid, real-life stories. Full of engaging exercises and activities, this book will help every couple work out their own unique way to successfully combine love and work.
Published:

10 October 2019

ISBN:

9780241379011

Imprint:

Penguin eBooks

Format:

EBook

Pages:

304
Praise for Couples That Work
"In this provocative and thoughtful book, Professor Petriglieri has created a brilliant conversation road map for anyone navigating a duel career path. I read it with my partner - and suggest you do the same. It's fascinating!"

Lynda Gratton, Professor of Management Practice at the London Business School and bestselling author of The 100-Year Life
"A simple yet profoundly insightful roadmap to the predictable transitions all couples traverse."

Herminia Ibarra, Professor of Organisational, Behaviour London Business School and bestselling author of Act like a Leader, Think like a leader
"Offers practical, executable tasks and conversational prompts to help couples navigate the challenging transitions that confront us all."

Whitney Johnson, Bestselling author of Disrupt Yourself and Build an A-Team
"An inspiring read for anyone looking to both work and love."

Laszlo Bock, CEO Humu, former SVP of People Operations at Google and author of Work Rules!
"Managing one career is hard enough; two often seems impossible. In this book, Jennifer shares what she's learned about how dual-career couples can not only survive, but also thrive."

Adam Grant, author of Originals
"A must read for any couple committed to their relationship and to their careers."

Francesca Gino, Professor of Business Administration Harvard Business School and bestselling author of Rebel Talent
"I wish I had had this book at the beginning and middle of my career. I'm glad to have it in my hands now."

Joanna Barsh, Director Emerita, McKinsey & Company and author of How Remarkable Women Lead
"Offers precious advice for couples who want to help each other thrive at work as well as in their relationships."

Terri Kelly, Former CEO W.L. Gore & Associates
"Hugely insightful. A must-read for all couples."

Susan David, author of Emotional Agility