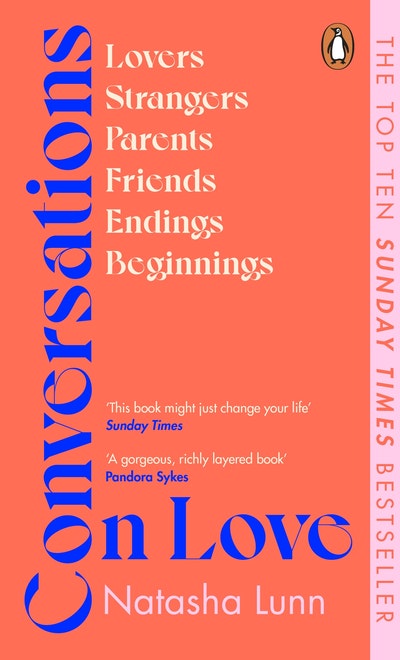 Published:

17 May 2022

ISBN:

9780241448748

Imprint:

Viking

Format:

Paperback

Pages:

256

RRP:

$22.99
Conversations on Love
with Philippa Perry, Dolly Alderton, Roxane Gay, Stephen Grosz, Esther Perel, and many more
---
---
---
The top 10 Sunday Times bestseller - a celebration of love in all its forms
After years of feeling that love was always out of reach, journalist Natasha Lunn set out to understand how relationships work and evolve over a lifetime. She turned to authors and experts to learn about their experiences, as well as drawing on her own, asking: How do we find love? How do we sustain it? And how do we survive when we lose it?
In Conversations on Love she began to find the answers:
Philippa Perry on falling in love slowly
Dolly Alderton on vulnerability
Stephen Grosz on accepting change
Candice Carty-Williams on friendship
Lisa Taddeo on the loneliness of loss
Diana Evans on parenthood
Emily Nagoski on the science of sex
Alain de Botton on the psychology of being alone
Esther Perel on unrealistic expectations
Roxane Gay on redefining romance
and many more...
Published:

17 May 2022

ISBN:

9780241448748

Imprint:

Viking

Format:

Paperback

Pages:

256

RRP:

$22.99
Praise for Conversations on Love
Enthralling, profound... The power of this book lies in its willingness to engage with love in the broadest sense: not merely the romantic kind, to which so many other books on relationships confine themselves. I can't imagine anyone who wouldn't benefit from reading this transformative book

The Bookseller
Sometimes you read a book that just makes you want to take the author's hands, look them in the eye and say thank you. This is that book. I needed to read it, you need to read it, everyone needs to read it

Stacey Halls, bestselling author of THE FAMILIARS
A gorgeous, richly layered book about all forms of love. You can pick it up and turn to any page - literally any - and find a gem to soothe and fortify your soul

Pandora Sykes, Sunday Times bestselling author of HOW DO WE KNOW WE'RE DOING IT RIGHT?
Conversations on Love is a glorious celebration of human vulnerability and connection. It has made me laugh, shed tears, think deeply. I want every person I love to read this book

Dr Kathryn Mannix, Sunday Times bestselling author of WITH THE END IN MIND
Warm and wide-ranging and wise, a wonderful companion and guide

Cressida Connolly, author of AFTER THE PARTY
One reading of this book is not enough. Conversations on Love is inspiring, insightful, comforting and hopeful in equal measure. Every page makes you think about why we feel the way we do and gently nudges you towards self compassion.

Rosie Green, author of HOW TO HEAL A BROKEN HEART
I've never felt such growth after reading a book - I felt seen, challenged, understood, provoked and soothed. It's such a touching reminder about the love that really is all around us, and the importance of tending to it. Conversations in Love is a study that I'll come back to again and again.

Laura Jane Williams, author of THE LOVE SQUARE and OUR STOP
Natasha Lunn is the most thoughtful interviewer I have ever encountered, with a heart as big as her brain, and these conversations are endlessly inspiring, restorative, surprising and delicious. Love is too often taken for granted: here it shines under rigorous analysis to create a manifesto of how and why we feel, and a must-read for anyone who has a heart!

Emma Jane Unsworth, author of ANIMALS
Breathtaking in its scope and breadth, Natasha Lunn combines the boundless curiosity of a researcher, the passion of a formidable writer, and the erudition of a deeply reflective thinker. She's daring and kind, and a joy to read. Conversations on Love offers us vital guidance for navigating all relationships

Charlotte Fox Weber, founder of The School of Life Psychotherapy
This is a book that people need to read about love in its many complex, challenging, sacred and profane forms

Jean Hannah Edelstein, author of This Really Isn't About You
This beautiful book is essential reading. I wish I could send this book back in time and read it to every past version of myself, to teach her all the hopeful and expansive possibilities of love. I know my future self will rely on it every day. Lunn's thoughtful interviews with brilliant subjects illuminate new ways of thinking about friendship, romance, attachment and loss. Beautifully written and so acutely observed, this book is a gift

Lucia Osborne-Crawley, author of I Choose Elena & My Body Keeps Your Secrets
This book is moving and lyrical, but more than anything it captures how love colours and transforms loss, and makes the reader feel that the memory of love is sustains in itself

Baroness Julia Neuberger
Rarely has a non-fiction book made me feel so seen, but also given me so much hope about love. Conversations on Love is an incredible book - not only is it so beautifully written but the full gamut of love is represented from families to romance to parenthood to friendship

Poorna Bell, author of STRONGER
A sure-fire contender for multiple buys and gifting to pals . . . It will honestly change how you think about love, in romantic relationships or otherwise, and has the power to overhaul your life in all manner of positive ways

Living Etc
Thought-provoking, wise and reassuring

Good Housekeeping
This book might just change your life. Lunn is a diligent, purposeful guide to this most ineffable of subjects... these testimonies become a call to connect more imaginatively, expansively and courageously

Sunday Times
This deep dive into the human heart will expand and enrich your perspective on love... In recent years we've seen an explosion of content exploring relationships and sex, from Lisa Taddeo's bestseller Three Women to Esther Perel's podcast Where Should We Begin? If you're wondering whether Lunn can bring anything new to the table, the answer is a resounding yes. Balanced, hopeful and uplifting, Conversations on Love is full of tiny eureka moments

Evening Standard
Conversations on Love will change your perspective of connection, love, friendship, grief, and everything in between. It's the most important book I've read this year, and it may have changed the way I approach relationships forever

Her.ie
This eclectic and heartwarming collection explores love in all its forms, from romantic and parental love to friendship and loss. Interspersed with short but often deeply revealing interviews are Lunn's own experiences - of marriage and miscarriage, of being mother and daughter, wife and friend - which she portrays with sensitivity and candour.

Observer
This essential read could change your perspective on relationships, offering reassurance and hope

CultureWhisper