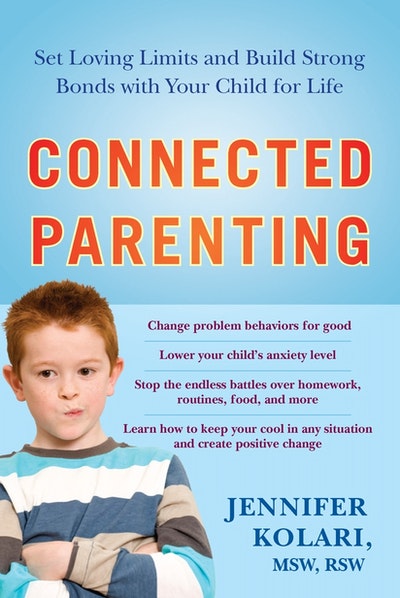 Published:

1 June 2010

ISBN:

9781583333945

Imprint:

Avery

Format:

Paperback

Pages:

320

RRP:

$29.99
Connected Parenting
Set Loving Limits and Build Strong Bonds with Your Child for Life
---
---
Read Jennifer Kolari's posts on the Penguin Blog.
A groundbreaking, counterintuitive parenting approach to create deep, empathic bonds with challenging children
A child and family therapist for more than twenty years, Jennifer Kolari began her career working with children who suffer from severe behavioral problems. That experience taught her an invaluable lesson: It wasn't "tough" discipline that helped these kids change their behavior and build self-esteem. It was unending compassion and empathy. Now Kolari applies these lessons in her work with all families, teaching them how to take a non-defensive stance through even the most heated moments. Filled with heartfelt advice, Connected Parenting helps parents:
•set limits and change problem behaviors for good
•lower the child's anxiety level
•stop the endless battles over homework, routines, food, and more
•learn how to keep cool in any situation
Powerful and inspiring, Connected Parenting includes incredible stories from families who have experienced miraculous transformations- often in just a few weeks-using Kolari's parenting approach. It is a dynamic blueprint for bringing peace and loving connections into any family for life.
Published:

1 June 2010

ISBN:

9781583333945

Imprint:

Avery

Format:

Paperback

Pages:

320

RRP:

$29.99
Praise for Connected Parenting
"A must read for parents, educators, and any other adults who want to connect in a deeply caring and positive way with the children in their lives." -Barbara Coloroso, author of Kid's Are Worth It! Giving Your Child the Gift of Inner Discipline "This remarkable book advises us not just how to parent, but-far more important- who to be as parents...based not on simple-minded behavioral solutions, but on building warm, nurturing relationships with our children, with insight and compassion not only for their little flaws but also for our own larger ones." -Gabor MatT M.D., Physician and best-selling author of Scattered: How Attention Deficit Disorder Originates and What You Can Do About It "Jennifer Kolari advocates focusing on empathy and concern for a child to encourage cooperation, enabling the possibility for constructive change." -Carl Pickhardt, Ph.D., author of Stop the Screaming: How to Turn Angry Conflict with Your Child into Positive Communication