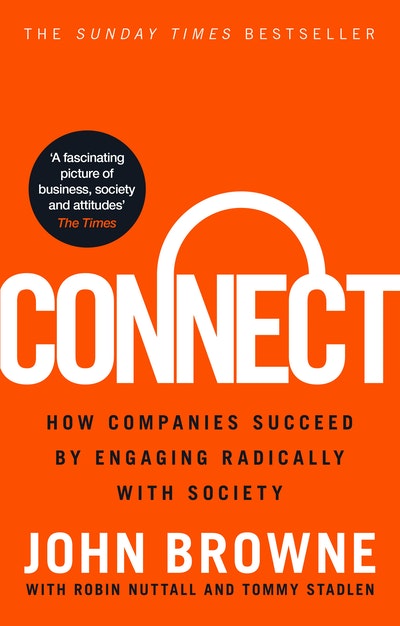 Published:

1 August 2016

ISBN:

9780753556948

Imprint:

WH Allen

Format:

Paperback

Pages:

320

RRP:

$19.99
Connect
Building Exceptional Relationships with Family, Friends and Colleagues
---
---
---
Connect fundamentally redefines the role of business, combining captivating stories from inside today's boardrooms with absorbing history and original research.
The Sunday Times Top Ten Bestseller.
Drawing on the experience of John Browne, former CEO of BP, and the insight of two McKinsey experts, Connect articulates and explores the recurring rift between big business and society, offering a practical manifesto for reconciliation. This timely and important book features candid interviews with global leaders at the heart of this debate, from Facebook's Sheryl Sandberg and Goldman Sachs' CEO Lloyd Blankfein to Tony Blair and Tim Berners-Lee, inventor of the World Wide Web.
Connect shows how companies and executives can enhance their performance by engaging radically with the world around them.
Published:

1 August 2016

ISBN:

9780753556948

Imprint:

WH Allen

Format:

Paperback

Pages:

320

RRP:

$19.99
This bold and timely book helps us redefine the way we think about business and serves as a compelling blueprint for the future.

Arianna Huffington
More than ever before, the world, both developed and developing, is going to need its businesses to survive and prosper. As a start, the 2,000-year-old history of anti-business sentiment needs first to be understood and then acted upon. Gaps need to be closed; gaps not just of perception but of reality. And it will be businesses, not society, who will need to make the bigger moves. This intelligent, practical book suggests what those moves should be. Of immediate value, I believe that only three years from now it will be seen to have been a trail-blazer.

Sir Martin Sorrell
The mission statements of corporations often include shareholders, customers and employees, but as Browne shows, a commitment to society at-large has been largely absent. Rather than transparency and engagement, businesses have become more closed and isolated. Connect shows why and how business must radically change to thrive in the 21st century.

John Hennessy
This book redefines three discredited words: Corporate Social Responsibility. Far too often they exist as a bit of window dressing or conscience-salving. John Browne wants to put them at the centre of businesses – both because it's right and because success in business is inextricably linked with sustainability. It's all the more compelling because of Browne's own years at the top in business.

Alan Rusbridger
Connect offers a radical and different way of thinking about business. Typically of John Browne, he has put together an inspiring call-to-arms to create the companies society deserves.

Alastair Campbell
John Browne argues that the relationship between business and the society it seeks to serve is vital, but the idea of Corporate Social Responsibility is dead. His interviews with top business leaders show, however, that a new connected paradigm is possible and it can be highly profitable. This book delivers huge insight into a vital topic that affects everyone.

Tony Hall
Browne aims to rehabilitate Corporate Social Responsibility, and move it from the periphery of a Board's agenda to the centre. Through a mixture of careful analysis and compelling anecdote, he succeeds where others have failed.

Sir Howard Davies
Lord Browne delivers a beautifully written tour de force, spanning ancient China to Silicon Valley. Rich with personal examples and extensive global interviews, he makes the powerful and persuasive argument that CEOs must connect with government and society to build sustainable organisations. A must-read.

Professor David Yoffie
Every business leader can learn from Connect. John Browne skillfully draws on deep historical research, clear insight into the future and his unique business experience to provide a path to business success in our turbulent times.

Senator George J. Mitchell
Big business is vilified, lauded and feared in equal measure. This stimulating book shows that this predicament is far from new. John Browne and colleagues analyse the challenges and offer some timely counselling to leaders who seek to establish some bond of trust and authenticity between the Boardroom and the Street.

Professor John Van Reenen
Connect provides a clear understanding of the value of connected leadership. This is beyond CSR or philanthropy. Companies must play a stronger role as global corporate citizens and do so authentically and with a sense of urgency.

Peter T. Grauer
John Browne, in this fast-paced book, lays out the enormous challenges that companies and society face together. For many, business is the antagonist, but Browne shows that corporate enterprise is central to the well-being of society. He demonstrates from his rich experiences how commercial success depends on integrity and building trust.

Jerry Brown, Governor of California