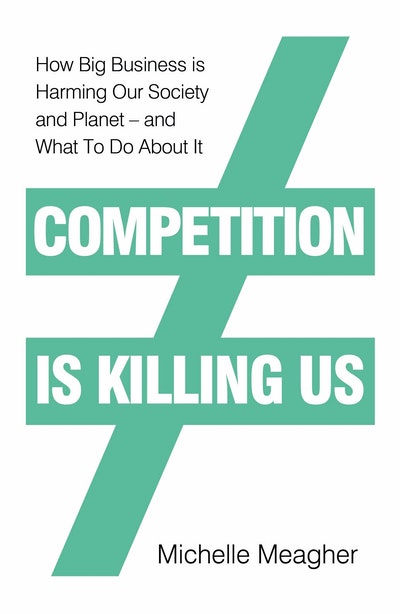 Published:

10 September 2020

ISBN:

9780241988121

Imprint:

Penguin eBooks

Format:

EBook

Pages:

224
Competition is Killing Us
How Big Business is Harming Our Society and Planet - and What To Do About It
---
---
---
Why we need to break up big business and how it would make the world a better place
We live in the age of big companies where multi-billion and trillion dollar mammoths dominate the market and prioritise shareholder profits over all else.
This leads to extreme wealth inequality, inhumane conditions for workers and relentless pressure on the environment. Yet no government or organisation has the power to regulate these companies and hold them to account.
In Competition is Killing Us, lawyer and campaigner Michelle Meagher, establishes a new framework to control capitalism, presenting a fair and comprehensive approach to competition law that limits unfair mergers, enforces accountability and redistributes power through stakeholder governance. By debunking six myths about the free market, Meagher shows how corporate capitalism concentrates power at the cost of people and planet, and shares a new vision for anti-trust for the 21st century.
It's time capitalism worked for the many and not just the few.
Published:

10 September 2020

ISBN:

9780241988121

Imprint:

Penguin eBooks

Format:

EBook

Pages:

224
Praise for Competition is Killing Us
This is a rallying call for change! Michelle adds her voice to the many that are demanding accountability from our global companies and offers a passionately-articulated solution. A fascinating read!

Danny Dorling, author of Inequality and the 1%
A trenchant and thought-provoking analysis of modern capitalism. Far from serving us, it is causing us all harm. What's more, Meagher has a positive agenda for reform that will force big businesses to take responsibility for a system stumbling from crisis to crisis and to start addressing the global problems they have helped cause

Professor Diane Coyle, Bennett Professor of Public Policy, University of Cambridge
A book arguing passionately for genuine stakeholder capitalism might have seemed Utopian before Covid-19, now it is a must-read as Britain debates the world it wants to create post the pandemic. The case Meagher makes could not be more timely or relevant

Will Hutton, author of The State We're In
Eloquent, accessible and massively well-informed... Competition is Killing Us should be required reading for every anti-trust lawyer, every fund manager and every executive board in the land. It does the rest of us a huge service, not only in busting the myths that sustain corporate exceptionalism, but in signposting the path towards a genuine and transformative model of stakeholder governance.

Tim Jackson, Director of the Centre for the Understanding of Sustainable Prosperity at The University of Surrey and author of Prosperity Without Growth