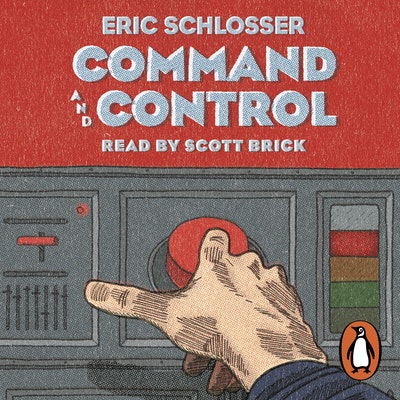 Published:

17 September 2013

ISBN:

9780241003763

Imprint:

Penguin Audio

Format:

Audio Download

RRP:

$27.99
Command and Control
---
---
---
From famed investigative journalist Eric Schlosser, author of Fast Food Nation, comes Command and Control a ground-breaking account of the management of nuclear weapons
Penguin presents the unabridged, downloadable audiobook edition of Command and Control, a ground-breaking account of the management of nuclear weapons from Eric Schlosser, author of Fast Food Nation. Read by the award-winning narrator Scott Brick.
A ground-breaking account of accidents, near-misses, extraordinary heroism, and technological breakthroughs, Command and Control explores the dilemma that has existed since the dawn of the nuclear age: how do you deploy weapons of mass destruction without being destroyed by them? Schlosser reveals that this question has never been resolved, and while other headlines dominate the news, nuclear weapons still pose a grave risk to mankind.
Command and Control interweaves the minute-by-minute story of an accident at a missile silo in rural Arkansas, where a single crew struggled to prevent the explosion of the most powerful nuclear warhead ever built by the United States, with a historical narrative that spans more than fifty years. It depicts the urgent effort by American scientists, policymakers, and military officers to ensure that nuclear weapons can't be stolen, sabotaged, used without permission, or detonated inadvertently. Schlosser also looks at the Cold War from a new perspective, offering history from the ground up, telling the stories of bomber pilots, missile commanders, maintenance crews, and other ordinary servicemen who risked their lives to avert a nuclear holocaust. At the heart of the book lies the struggle to prevent the explosion of a ballistic missile carrying the most powerful nuclear warhead ever built by the United States.
Drawing on recently declassified documents and interviews with men who designed and routinely handled nuclear weapons, Command and Control takes readers into a terrifying but fascinating world that, until now, has been largely hidden from view. It reveals how even the most brilliant of minds can offer us only the illusion of control. Audacious, gripping, and unforgettable, Command and Control is a tour de force of investigative journalism.
Published:

17 September 2013

ISBN:

9780241003763

Imprint:

Penguin Audio

Format:

Audio Download

RRP:

$27.99