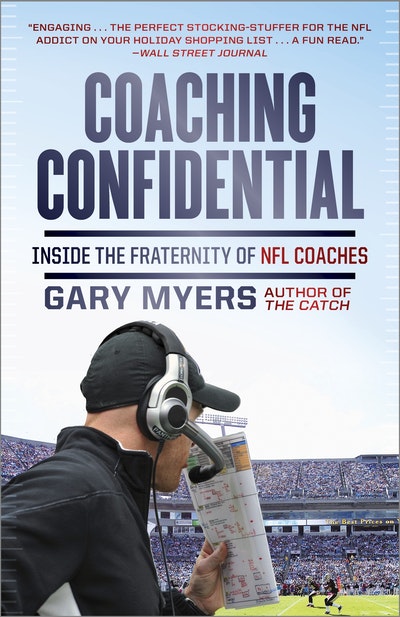 Published:

15 November 2013

ISBN:

9780307719676

Imprint:

Crown

Format:

Trade Paperback

Pages:

272

RRP:

$24.99
Coaching Confidential
---
---
A behind-the-scenes look at the high-pressure lives of NFL head coaches
Coaching Confidential chronicles a year in the life of an NFL head coach. But not just one head coach. A composite portrait is drawn through interviews with at least 20 current and former head coaches (including Super Bowl winners such as Bill Parcells, Tom Coughlin, Jimmy Johnson, Tony Dungy, Sean Payton, Mike Shanahan, Dick Vermeil, Mike Holmgren, Brian Billick, and Joe Gibbs), taking us through the professional and personal challenges of the job. This book covers the draft, free agency, big trades, training camp, family crisis, player troubles, coaching relationships with members of the staff, coach-owner dynamics, rivalries, Xs and Os, the playoffs--all the way to the Super Bowl.
Just getting to Sunday is almost a relief for NFL head coaches. It's during that three-hour window 16 days a year when they can simply concentrate on what they do best, which is trying to win football games. But the job is, of course, much more than that.
Published:

15 November 2013

ISBN:

9780307719676

Imprint:

Crown

Format:

Trade Paperback

Pages:

272

RRP:

$24.99
Praise for Coaching Confidential
"Engaging….the perfect stocking-stuffer for the NFL addict on your holiday shopping list….a fun read." – Wall Street Journal

 "An intriguing book for an NFL fan...Myers, a respected pro football writer for more than three decades, has the access and insight that makes this more than a typical NFL book." – Sam Farmer, Los Angeles Times

"Buy this book. It's a great read for any football fan." - Jeff Duncan, New Orleans Times Picayune

"One of the NFL's greatest scribes brings fans inside the minds and the locker rooms of some of the NFL's best, from Bill Belichick and Tony Dungy to Bill Parcells and Joe Gibbs, to give fans of sport as well as lovers of leadership a very special treat. The book appeals to as wide an audience as any written in 2012."— Big Lead Sports

"Excellent" — The Sports Network

"The diversity of coaches and topics covered, coupled with Myers's obsessive attention to detail and sharp opinions, will appeal to multiple generations of pro football fans." —Publishers Weekly
 

"Finally, somebody has written this book. In Coaching Confidential, Gary Myers has climbed down in the NFL bunker and taken us behind the curtain to reveal the highly-secretive world of NFL coaches. The chapter on Bill Parcells alone will blow you away. We have had many books on pro football's players, teams, seasons and history. Myers has cracked the toughest code: what makes these coaches tick, how they work, what they think." -Sal Paolantonio, ESPN NFL National Correspondent   

"This is such an easy book to devour. Gary Myers' three decades of closely covering the NFL makes him the perfect writer to take you inside the lives of so many of the game's General Pattons. His insight on the strained family lives and the never-ending anxiety for driven men like Dick Vermeil makes this a must-read for anyone who loves the NFL."  -Peter King, Sports Illustrated
 
"Gary Myers is one of the finest NFL writers in the business. His attention to detail and passion for football are evident in Coaching Confidential. When I played for the New York Jets, I appreciated our fierce interviews that often turned into debates. This book will educate, inform, and entertain countless football fans." –Boomer Esiason, former NFL Most Valuable Player, analyst for The NFL Today, and WFAN morning talk show host
 
"In Coaching Confidential [Myers] looks back at some of the most controversial moments in NFL history and gives us those 'Oh, that's what happened' answers we have all longed to hear." –Cris Collinsworth, Commentator for Sunday Night Football and former Bengals Great—Cris Collinsworth, commentator for Sunday Night Football and former Bengals great
 
"Over the years Gary Myers has earned our trust and respect through the integrity of his stories. Because of that, the individuals in [Coaching ConfidentialI] are willing to speak with a level of candor that is rarely seen outside of locker room walls."  - Curtis Martin, Pro Football Hall of Fame Class of 2012, former Patriots and Jets running back, fourth leading rusher in NFL history

"Gary Myers has always been one of the best NFL insiders in the business. But as this book proves, if you thought you had all the inside information you needed on the players and owners and coaches he covers, well, think again."  -Mike Lupica, New York Daily News





From the Hardcover edition.