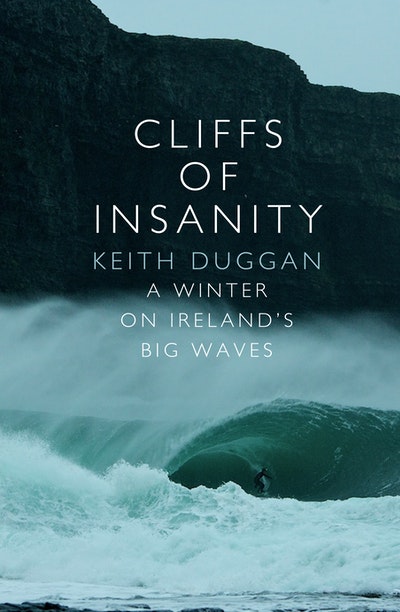 Published:

15 September 2012

ISBN:

9781848271302

Imprint:

Transworld Ireland

Format:

Trade Paperback

Pages:

272

RRP:

$29.99
Cliffs Of Insanity
A Winter On Ireland's Big Waves
---
---
---
A fascinating insight into the people and the places at the centre of the surfing scene which has developed in recent years along Ireland's west coast.
For decades, surfing in Ireland was little more than a fringe and slightly lunatic pursuit. The coastline was too treacherous and too green to sit comfortably with the shimmering stereotype of surfing as the favoured pastime of the bronzed and the privileged. But in the past few years, the Irish coast has become one of the worst kept secrets in world surfing with the discovery of the massive Aileen's Wave at the Cliffs of Moher. That wave - and the recently surfed 'Prowlers' Wave off the coast of Mullaghmore in Sligo - instantly established Ireland as pioneering country for big wave surfers. And those waves have become an obsession for the few surfers talented and brave enough to try to capture them.
Cliffs Of Insanity tells the story of the handful of people whose lives revolve around the pursuit of these monstrous waves and explores how what these big wave surfers are doing - how they live - says something about Ireland now. While writing a feature story about these surfers for The Irish Times at Christmas 2010, a time when the country was in the double grip of a freezing snap and a deep fear about the economic collapse, Keith Duggan was intrigued to discover that the surfers he spoke with seemed to be the only people in Ireland who were completely carefree. Their basic need - the ocean - was all about them and it was free.
In his first book since the critically acclaimed House Of Pain, Duggan portrays the challenges involved with surfing these waves - particularly in the winter, when the water is freezing and it gets dark at four o'clock. He describes how they go about getting in line with the waves without being pulverized, what happens when they go under, how they sound and look after a tough few hours in the water, what their fears are, how they communicate with each other and, most of all, seeks to understand why they do what they do, month after month. Frostbite, stitches, concussion, broken boards and even bones are the pitfalls of the trade for Irish big wave surfers but the pay-off, as they describe it, seems to be priceless.
Published:

15 September 2012

ISBN:

9781848271302

Imprint:

Transworld Ireland

Format:

Trade Paperback

Pages:

272

RRP:

$29.99