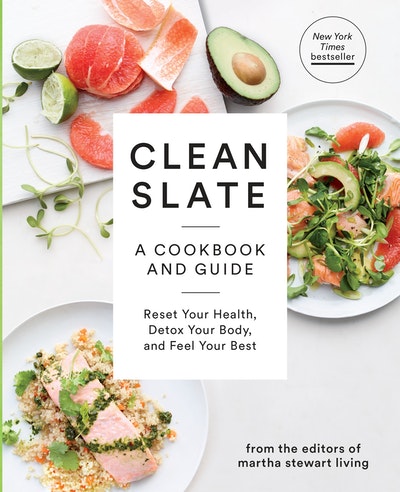 Published:

2 March 2015

ISBN:

9780307954596

Imprint:

Crown

Format:

Trade Paperback

Pages:

336

RRP:

$55.00
Clean Slate
A Cookbook and Guide
---
---
Building upon the success of Meatless and Power Foods-which proved that healthy food can be beautiful, delicious, and completely accessible-the editors at Martha Stewart Living now present their version of an elimination diet to help you reset, detox, and clean up your eating habits, with more than 175 energy-boosting recipes, including a 3-Day and a 21-Day Action Plan.
More than just a cookbook, New York Times bestselling Clean Slate is the complete go-to guide for boosting your energy and feeling your best.
It's time to hit the reset button. This book emphasizes eating clean, whole, unprocessed foods as part of a primarily plant-based diet, with delicious and healthy recipes that make it easy to do just that. Refreshing juices and smoothies, savory snacks, protein-packed main dishes, and even delectable desserts will keep you satisfied all day long; among them are plenty of vegan, vegetarian, gluten-free, and allergen-free options, each identified by helpful icons.
Clean Slate also provides you with the nutritionally sound information you need to shop for and prepare food that nourishes body and mind. You'll find guidelines for restocking your pantry with whole grains, beans and legumes, lean proteins, and healthy fats; glossaries of the best sources of detoxifiers, antioxidants, and other health-boosting nutrients; and menus for a simple 3-day cleanse and a 21-day whole-body detox, with easy-to-follow tips and strategies for staying on track.
Get inspired by more than 160 beautifully photographed recipes organized into action-focused chapters, including:
Replenish: Get off to a good start
Whole-Wheat Waffles with Strawberries and Yogurt;
Poached Eggs with Roasted Tomatoes
Reboot: Drink to your health
Grapefruit, Carrot, and Ginger Juice;
Green Machine Smoothie
Recharge: Load up on vegetables
Roasted Mushroom Tartines with Avocado;
Steamed Vegetable Salad with Macadamia Dressing
Reenergize: Choose your snacks wisely
Warm Spinach-White Bean Dip;
Trail Mix with Toasted Coconut
Restore: Make meals with substance
Wild Salmon, Asparagus, and Shiitakes in Parchment;
Grilled Chicken with Cucumber, Radish, and Cherry Tomato Relish
Relax: Have a little something sweet
Dark Chocolate Bark with Hazelnuts;
Berry-Almond Crisp
Published:

2 March 2015

ISBN:

9780307954596

Imprint:

Crown

Format:

Trade Paperback

Pages:

336

RRP:

$55.00