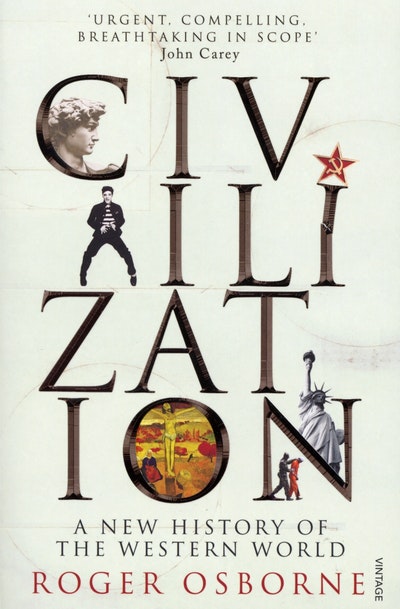 Published:

30 September 2011

ISBN:

9781446442838

Imprint:

Vintage Digital

Format:

EBook

Pages:

560
Civilization
A New History of the Western World
---
---
---
Through a vivid and dramatic interrogation of the past, this book examines and illuminates the nature of Western civilization from its earliest incarnations to the present.
Ever since the attacks of 11th September, western leaders have described a world engaged in 'a fight for civilization'. But what do we mean by civilization? We believe in a western tradition of openness and freedom that has produced a good life for many millions of people and a culture of enormous depth and creative power.
But the history of our civilisation is also filled with unspeakable brutality - for every Leonardo there is a Mussolini, for every Beethoven symphony a concentration camp, for every Chrysler building a My Lai massacre. How can we come to the defence of a civilisation whose benefits seem so questionable? In this ambitious and important book Roger Osborne shows that we can only truly understand our civilization by re-examining and confronting our past, with all its glories and catastrophes.
Sweeping in its scope and comprehensive in its coverage, Civilzation tells the story of the western world from its origins to the present. At such a dangerous time in the world's history, this brilliant book is required reading.
Published:

30 September 2011

ISBN:

9781446442838

Imprint:

Vintage Digital

Format:

EBook

Pages:

560
The book is a brilliant example of authorial brevity, the writing neither hurried nor baldly functional

Edward Vallance, BBC History Magazine
An immensely important book and an exhilarating read

Gregor Dallas, Literary Review
It is a bold adventurer who proposes to survey the history of Western civilization in a mere 500 pages, and not only to say something fresh about many aspects of it, but to do so in a spirit of perceptive scepticism that refuses to go along with standard views and reflex valuations. Roger Osborne offers himself this challenge and meets it brilliantly

A.C. Grayling, Independent on Sunday
Osborne's book is a blessing.... Two weeks in, and the year's first necessary book is with us

Christopher Bray, Daily Telegraph
Roger Osborne's absorbing blockbuster... is an admirable achievement: a coherent narrative that gallops from the painting of the Lascaux buffalo to the cloning of Dolly the Sheep, from the Beaker people to the McDonald's people, in fewer than 500 crisply written pages

Boyd Tonkin, Independent
Urgent, compelling, breathtaking in scope, Osborne's Civilization confronts the vital question of our time

John Carey