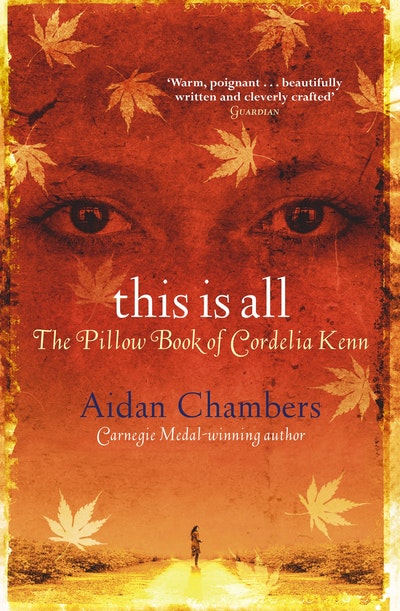 Published:

2 August 2010

ISBN:

9781407098364

Imprint:

Penguin eBooks

Format:

EBook

Pages:

832
This Is All
---
---
---
Subtitled The Pillow Book of Cordelia Kenn, this is a self portrait of a passionate girl who needs to write - in this case the story of her teenage years. It is the last novel in the loosely connected sequence of novels which began with Breaktime in 1978.
Subtitled The Pillow Book of Cordelia Kenn this is the story of Cordelia from the time she is 15 until she is 20. She is pregnant and plans to give this account to her daughter on her 16th birthday so that they can share their youth together. She chooses the old and famous Japanese book, 'The Pillow Book' by Sei Shonagon, as a model in order to include all kinds of things she has already written as well as the episodes and thoughts she has now as she compiles her book.
She tells of her mother (who died when Cordelia was 5) of her father and her aunt Doris (who marry when she is 16), of her love for William Blacklin, the boy with whom she chooses to have her first sex - and with whom she falls deeply in love. She writes about Julie Martin her teacher who helps her spiritually, describes her love affair with an older married man and her terrifying sexual experience with an unbalanced young man who is obsessed with her. The book includes thoughts on being a women, on poetry, music, reading and writing, on being pregnant and finally of her marriage to William.
This Is All is an anthology, written in six 'books' of Cordelia's adolescent life, by turns funny, poignant, sad, exciting, fascinating ironic and truthful about topics that parents often do not tell their children. It is a richly entertaining and challenging read.
Published:

2 August 2010

ISBN:

9781407098364

Imprint:

Penguin eBooks

Format:

EBook

Pages:

832
explores the heart and soul of a teenage girl with a rawness that is both incredible and borderline alarming (alarming because the author is a middle aged man and he writes about being a teenage girl better than people who have actually experienced being one). Think a longer, more structurally unique Catcher In The Rye if Holden was a girl.

Huffington Post
explores the heart and soul of a teenage girl with a rawness that is both incredible and borderline alarming (alarming because the author is a middle aged man and he writes about being a teenage girl better than people who have actually experienced being one). Think a longer, more structurally unique Catcher In The Rye if Holden was a girl.

Huffington Post
A warm, poignant and sometimes funny novel . . . beautifully written and cleverly crafted . . . A very readable book whose ease belies its length and complexity

Kate Agnew, Guardian
A warm, poignant and sometimes funny novel . . . beautifully written and cleverly crafted . . . A very readable book whose ease belies its length and complexity

Kate Agnew, Guardian
As always, Chambers writes with the fierce intelligence and honesty which distinguishes his work. If more novels of adolescence had this quality and seriousness, we wouldn't risk losing those readers who feel patronised by teenage fiction

Linda Newbery, TES Teacher
As always, Chambers writes with the fierce intelligence and honesty which distinguishes his work. If more novels of adolescence had this quality and seriousness, we wouldn't risk losing those readers who feel patronised by teenage fiction

Linda Newbery, TES Teacher
Captures in story form the confusion, the ordinariness, the excitement and the shape of everyday lives . . . Chambers has delivered another provocative, informed, stimulating and controversial book

Inis
Captures in story form the confusion, the ordinariness, the excitement and the shape of everyday lives . . . Chambers has delivered another provocative, informed, stimulating and controversial book

Inis
Remarkable

Boyd Tonkin, Independent
Remarkable

Boyd Tonkin, Independent
Serious and self-absorbed, Cordelia is the antidote to the ditzy heroines of a thousand pink covers but it is an addictive read, even at 800 pages. Anyone who questions the validity of specialist "teen" fiction should read it

Dinah Hall, Sunday Telegraph
Serious and self-absorbed, Cordelia is the antidote to the ditzy heroines of a thousand pink covers but it is an addictive read, even at 800 pages. Anyone who questions the validity of specialist "teen" fiction should read it

Dinah Hall, Sunday Telegraph