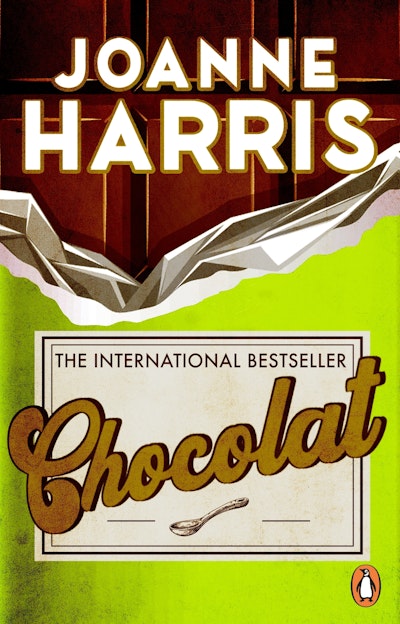 Published:

7 March 2019

ISBN:

9780552998482

Imprint:

Black Swan

Format:

Paperback

Pages:

384

RRP:

$22.99
Chocolat
The captivating multi-million copy bestseller
---
---
---
TWENTIETH ANNIVERSARY REISSUE OF JOANNE HARRIS' BELOVED BESTSELLER, with new introduction and first chapter from the new Vianne Rocher Novel, The Strawberry Thief (Gollancz April 19)
'A feelgood book of the first order. One to curl up with... Read it' OBSERVER
'Sensuous and thought-provoking... subtle and brilliant' DAILY TELEGRAPH
THE ENCHANTING BESTSELLER THAT CELEBRATES KINDNESS, COURAGE AND CHOCOLATE
In the small French village of Lansquenet, nothing much has changed in a hundred years. Then an exotic stranger, Vianne Rocher, blows in on the changing wind with her young daughter, and opens a chocolate boutique directly opposite the church. Soon the villagers cannot keep away, for Vianne can divine their most hidden desires.
But it's the beginning of Lent, the season of abstinence, and Father Reynaud denounces her as a serious moral danger to his flock. Perhaps even a witch. If Vianne's chocolaterie is to survive, it will take kindness, courage and a little bit of magic...
What readers are saying about Chocolat:
***** 'You are transported to another world. It's perfect escapism.'
***** 'A wonderful story told by a world-class storyteller.'
***** 'I became totally immersed in this story. I loved it.'
Chocolat was Joanne Harris's first book about Vianne Rocher, and was turned into the Oscar-nominated film starring Juliette Binoche and Johnny Depp. The story of Vianne and her daughters was continued in Lollipop Shoes, Peaches for Monsieur le Cure, and now in The Strawberry Thief.
Published:

7 March 2019

ISBN:

9780552998482

Imprint:

Black Swan

Format:

Paperback

Pages:

384

RRP:

$22.99
Peter Hennessy is a historian and a dreamer ... Here is the vision of a kinder Britain, shared by the creators of the welfare state in the first postwar years ... Hennessy's book is a recital of reflections upon a long and often brilliant career as a social and political observer ... He sees huge challenges ahead in social care, social housing, climate change, artificial intelligence, technical education and the fragility of the Union, which present policies are quite inadequate to address. ... At the heart of the author's thesis is his contention that the British people during the pandemic have shown themselves to be much better than their rulers; that we must find means to mobilise our true national spirit through a nobler politics ... His enthusiasm and, yes, virtue shine through its pages, together with his rage towards those who fail us in the "duty of care" of his title. It is an inspirational work.

Max Hastings, Sunday Times
deeply thoughtful ... the book is testament to Hennessy's own deep humanity as well as his expertise in the history of Britain since 1945, the era of the post-war consensus, about which he writes with such conviction. It is a valuable and exceptionally well-reasoned guide to how we might turn round a country battered not by war, as in 1945, but by a wave of disease unknown in living memory.

Simon Heffer, Sunday Telegraph
Peter Hennessy's A Duty of Care is a call from the deep for civility, compromise and cooperation. Coming from one of our most distinguished political historians, it can hardly be ignored. But A Duty of Care is much more than just an appeal for a politics of sanity and mutual respect. It is also, no less importantly, and more interestingly, a Confucian appeal for a politics of benevolence.

Oliver Letwin, The Tablet
Part history, part manifesto ... The warmth and wisdom of Hennessy's book, peppered with personal reflection and marked by his deeply held commitment to a society of equals, is inspiring.

Nick Pearce, Financial Times
The detailed prescriptions for a better future advanced in this book deserve to be read by anyone actively engaged in politics today. Nobody knows more about the world of high politics in the United Kingdom than Peter Hennessy.

Richard Evans, Times Literary Supplement
Peter Hennessy understands just how Britain ticks. ... In this latest short, but compelling, book he brings all that knowledge and sense of perspective to a remarkable analysis

Lord Cormack, The House Magazine
Mouthwatering ... a feelgood book of the first order ... your senses are left reeling. Read it

Observer
Is this the best book ever written? Truly excellent ... Harris's achievement is not only in her story, in her insight and humour and the wonderful picture of small-town life in rural France, but also in her writing

Literary Review
Sensuous and thought-provoking ... subtle and brilliant

Daily Telegraph
A celebration of pleasure, of love, of tolerance

Observer
An addictive read ... haunting, obsessive and just a little nutty, like a freshly made praline

Elisabeth Luard, author of "Family Life"