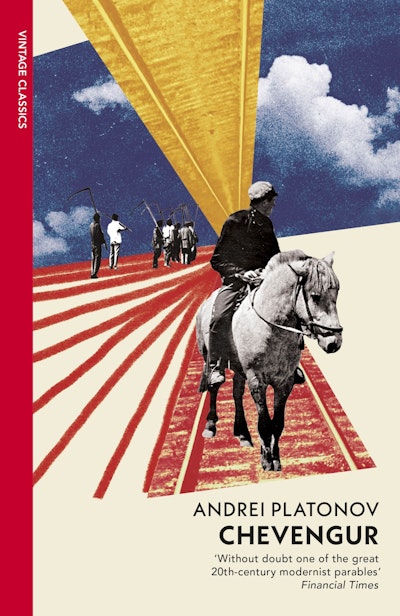 Published:

2 November 2023

ISBN:

9781446484982

Imprint:

Vintage Digital

Format:

EBook

Pages:

592
Chevengur
---
---
---
The Soviet Don Quixote from one of the greatest 20th-century prose writers, author of The Fountain Pit and Soul. A celebrated masterpiece available in its full version in English for the first time.
'Platonov is an extraordinary writer, perhaps the most brilliant Russian writer of the twentieth century' New York Review of Books
The Soviet Don Quixote, Chevengur is now seen by many Russian writers as Russia's greatest novel of the last century. This is the first English version to convey its subtlety and depth.
Zakhar Pavlovich comes from a world of traditional crafts to work as a train mechanic, motivated by his belief in the transformative power of industry. His adopted son, Sasha Dvanov, embraces revolution, which will transform everything: the words we speak and the lives we live, souls and bodies, the soil underfoot and the sun overhead.
Seeking communism, Dvanov joins up with Stepan Kopionkin, a warrior for the cause whose steed is the fearsome cart horse Strength of the Proletariat. Together they cross the steppe, meeting counter-revolutionaries, desperados and visionaries of all kinds. At last they reach the isolated town of Chevengur. There communism is believed to have been achieved because everything that is not communism has been eliminated. And yet even in Chevengur the revolution recedes from sight.
Comic, ironic, grotesque, disturbingly poetic in its use of language and profoundly sorrowful, Chevengur is a revolutionary novel about revolutionary ardour and despair. Unpublished during Andrey Platonov's life, it is now one of the most celebrated Russian novels, and the most ambitious and moving of Platonov's recreations of a world undergoing revolutionary transformation.
'It was from the novel Chevengur that I learned to create "literary worlds". Platonov is a self-taught literary jeweller, a true believer who built dystopias. His love for his characters is instantly conveyed to readers' Andrey Kurkov
Translated by Robert Chandler and Elizabeth Chandler
Published:

2 November 2023

ISBN:

9781446484982

Imprint:

Vintage Digital

Format:

EBook

Pages:

592
'The most exciting Russian writer to be rediscovered since the end of the Soviet Union'

Independent
'The most exciting Russian writer to be rediscovered since the end of the Soviet Union'

Independent
'The most exciting Russian writer to be rediscovered since the end of the Soviet Union'

Independent
'In Platonov's prose, it is impossible to find a single inelegant sentence'

The Times
'In Platonov's prose, it is impossible to find a single inelegant sentence'

The Times
'In Platonov's prose, it is impossible to find a single inelegant sentence'

The Times
I squint back on our century and I see six writers I think it will be remembered for. They are Marcel Proust, Franz Kafka, Robert Musil, William Faulkner, Andrey Platonov and Samuel Beckett.... They are summits in the literary landscape of our century ... What's more, they don't lose an inch of their status when compared to the giants of fiction from the previous century.

Joseph Brodsky
I squint back on our century and I see six writers I think it will be remembered for. They are Marcel Proust, Franz Kafka, Robert Musil, William Faulkner, Andrey Platonov and Samuel Beckett.... They are summits in the literary landscape of our century ... What's more, they don't lose an inch of their status when compared to the giants of fiction from the previous century.

Joseph Brodsky
I squint back on our century and I see six writers I think it will be remembered for. They are Marcel Proust, Franz Kafka, Robert Musil, William Faulkner, Andrey Platonov and Samuel Beckett.... They are summits in the literary landscape of our century ... What's more, they don't lose an inch of their status when compared to the giants of fiction from the previous century.

Joseph Brodsky
1929: Bolshevism on the brink of Stalinism. In this pivotal year, Andrey Platonov-poet, engineer, true believer wrestling with demons of unbelief-completed his massive lyrical novel Chevengur, where the suffering and violence of a Communist utopia are conveyed not through anger but through sadness, slow-motion pain, and linguistic bewilderment. The reincarnation of this masterwork in English, impeccably midwifed by the Chandlers and placed in context by Platonov's disciple Vladimir Sharov, restores a harrowing vision from inside the beast.

Caryl Emerson (Princeton University)
1929: Bolshevism on the brink of Stalinism. In this pivotal year, Andrey Platonov-poet, engineer, true believer wrestling with demons of unbelief-completed his massive lyrical novel Chevengur, where the suffering and violence of a Communist utopia are conveyed not through anger but through sadness, slow-motion pain, and linguistic bewilderment. The reincarnation of this masterwork in English, impeccably midwifed by the Chandlers and placed in context by Platonov's disciple Vladimir Sharov, restores a harrowing vision from inside the beast.

Caryl Emerson (Princeton University)
1929: Bolshevism on the brink of Stalinism. In this pivotal year, Andrey Platonov-poet, engineer, true believer wrestling with demons of unbelief-completed his massive lyrical novel Chevengur, where the suffering and violence of a Communist utopia are conveyed not through anger but through sadness, slow-motion pain, and linguistic bewilderment. The reincarnation of this masterwork in English, impeccably midwifed by the Chandlers and placed in context by Platonov's disciple Vladimir Sharov, restores a harrowing vision from inside the beast.

Caryl Emerson (Princeton University)
The greatest Russian modernist most people have probably never heard of… [The 'best and longest' of Platonov's 'great early novels'], Chevengur – now available in a handsome translation... wasn't published in his lifetime… Like many of Platonov's remarkable fictions (now, thanks to Robert Chandler and his translating collective, very available), Chevengur offers contemporary readers a wholly imagined, often surprising and by turns terrifying and delightful world.

Spectator
The greatest Russian modernist most people have probably never heard of… [The 'best and longest' of Platonov's 'great early novels'], Chevengur – now available in a handsome translation... wasn't published in his lifetime… Like many of Platonov's remarkable fictions (now, thanks to Robert Chandler and his translating collective, very available), Chevengur offers contemporary readers a wholly imagined, often surprising and by turns terrifying and delightful world.

Spectator
The greatest Russian modernist most people have probably never heard of… [The 'best and longest' of Platonov's 'great early novels'], Chevengur – now available in a handsome translation... wasn't published in his lifetime… Like many of Platonov's remarkable fictions (now, thanks to Robert Chandler and his translating collective, very available), Chevengur offers contemporary readers a wholly imagined, often surprising and by turns terrifying and delightful world.

Spectator