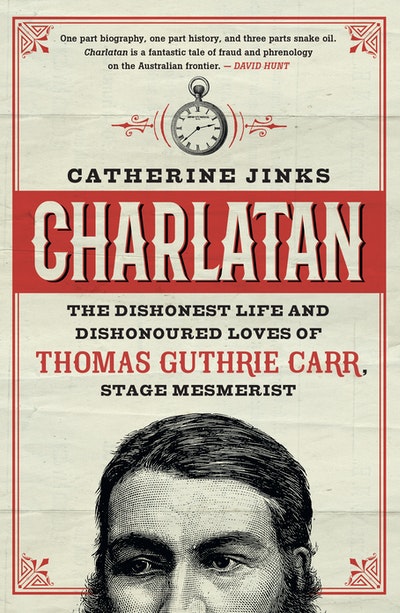 Published:

3 July 2017

ISBN:

9780143785552

Imprint:

Random House Australia

Format:

EBook

Pages:

304
Charlatan
---
---
---
The story of a nineteenth century court case involving Thomas Guthrie Carr, a notorious, larger-than-life character who made his living as a mesmerist, phrenologist, public speaker and some say charlatan.
Thomas Guthrie Carr is charged by Eliza Gray with mesmerising her and raping her while she was under his influence. But if mesmerism and Mr Carr are shams, was Eliza raped?
In the tradition of The Suspicions of Mr Whicher, Charlatan is the story of a notorious nineteenth-century court case involving a larger-than-life character. With a driving narrative and novelistic pacing, this scrupulously researched account of the life of Thomas Guthrie Carr, stage mesmerist – who lied, fought and sleazed his way around Australia and New Zealand between 1865 and 1886 – is more than just a fascinating piece of social history. It's also a mystery, a piece of true crime, and a delicately humorous portrait of a man whose eye for the main chance and ferocious pursuit of publicity made him an oddly contemporary figure.
With a star-studded supporting cast, including the Duke of Edinburgh, the Mad Dentist of Wynyard, the Nunawading Messiah, and a host of shady mesmerists, spiritualists, phrenologists and hired goons, Charlatan delves deep into a side of colonial history not often explored, and unearths a Victorian celebrity who should never have been forgotten …
Published:

3 July 2017

ISBN:

9780143785552

Imprint:

Random House Australia

Format:

EBook

Pages:

304
Thomas Guthrie Carr, mesmerist and phrenologist, cast his spells and measured skulls all over Australia and New Zealand during the second half of the 19th century. But when he apparently mesmerised Eliza Gray, a mother of seven whose husband was often at sea, she accused him of rape and making her sick. However, the question arises in this rollicking, lively and entertaining study: if he really was a shyster, could he have mesmerised her? The case occupies much of the book, along with vivid colonial snapshots, such as the attempted assassination of the Duke of Edinburgh, as well as covering Carr's freewheeling, duplicitous life from Newcastle-upon-Tyne to his death in Glen Innes.

Steven Carroll, The Sydney Morning Herald
One part biography, one part history, and three parts snake oil. Charlatan is a fantastic tale of fraud and phrenology on the Australian frontier. Mesmerism, magnetism, sex and skullduggery. Everything that one could want in an Australian history.

David Hunt, author of GIRT and TRUE GIRT
Here is the story of a 19th century Australian court case involving Thomas Guthrie Carr, a notorious, larger-than-life character who made his living as a mesmerist, phrenologist, public speaker and, some say, charlatan. But was he guilty of rape and how did this remarkable personality have such an impact in colonial Australia before being largely lost in the mists of time? Until Junks resurrected this Victorian celebrity who should never have been forgotten.

Riverine Herald
Waverley Library Award for Literature
Longlisted • 2018 • Waverley Library Award for Literature
Article
Article