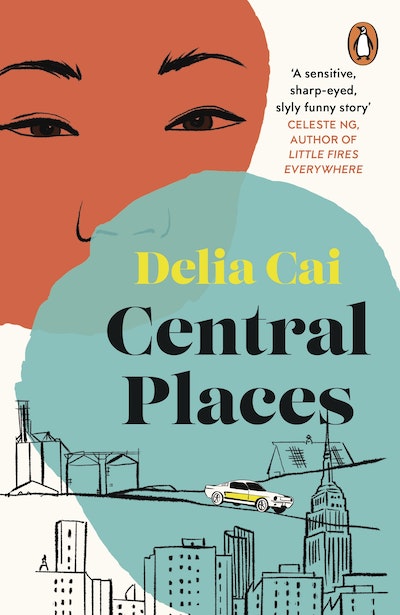 Published:

21 November 2023

ISBN:

9781529923018

Imprint:

Merky Books

Format:

Trade Paperback

Pages:

288

RRP:

$32.99
Central Places
---
---
---
A young woman's past and present collide when she brings her white fiancé home to meet her Chinese immigrant parents in this vibrant debut from an exciting new voice in fiction.
Audrey Zhou left Hickory Grove, the tiny central Illinois town where she grew up, as soon as high school ended, and she never looked back. She moved to New York City and became the person she always wanted to be, complete with a high-paying, high-pressure job and a seemingly faultless fiancé. But if she and Manhattan-bred Ben are to build a life together, in the dream home his parents will surely pay for, Audrey can no longer hide him, or the person she's become, from those she left behind.
But returning to Hickory Grove is . . . complicated. Over the course of one disastrous week, Audrey's proximity to her family and to Kyle, her unrequited high school crush, forces her to confront the past and reexamine her fraught connection to her roots before she undoes everything she's worked toward and everything she's imagined for herself. But is that life really the one she wants?
Published:

21 November 2023

ISBN:

9781529923018

Imprint:

Merky Books

Format:

Trade Paperback

Pages:

288

RRP:

$32.99
Praise for Central Places
A sensitive, sharp-eyed, slyly funny story of venturing back into the foreign country that is your past--and discovering that you can never really shake the places and people that shaped you . . . This book will resonate with anyone who's tried to navigate the confusing terrain of family tensions, lost friendships, or embarrassing memories of youth: in short, pretty much everyone.

Celeste Ng, #1 New York Times bestselling author of Our Missing Hearts
A sensitive, sharp-eyed, slyly funny story of venturing back into the foreign country that is your past--and discovering that you can never really shake the places and people that shaped you . . . This book will resonate with anyone who's tried to navigate the confusing terrain of family tensions, lost friendships, or embarrassing memories of youth: in short, pretty much everyone.

Celeste Ng, #1 New York Times bestselling author of Our Missing Hearts
Delia Cai fully renders the uneasy marriage between past and present. Central Places is honest about the strangeness and revelation of returning home.

Raven Leilani, New York Times bestselling author of Luster
Delia Cai fully renders the uneasy marriage between past and present. Central Places is honest about the strangeness and revelation of returning home.

Raven Leilani, New York Times bestselling author of Luster
An incandescent debut shedding light on old friendships, half-forgotten selves, and ferocious longings past and present, Central Places is a revelation, disquieting and so very moving, and dazzling with insight.

R. O. Kwon, author of The Incendiaries
An incandescent debut shedding light on old friendships, half-forgotten selves, and ferocious longings past and present, Central Places is a revelation, disquieting and so very moving, and dazzling with insight.

R. O. Kwon, author of The Incendiaries
A moving, nuanced novel about race, class, and the unspoken power dynamics of an interracial relationship, Central Places negotiates the personal and the political with unsparing precision. Delia Cai has created an indelible cast of uniquely complicated characters. A spiky, intelligent narrator leads the story--readers will root for Audrey to win, even as her definition of triumph shifts with every chapter in this masterful debut.

Jean Chen Ho, author of Fiona and Jane
A moving, nuanced novel about race, class, and the unspoken power dynamics of an interracial relationship, Central Places negotiates the personal and the political with unsparing precision. Delia Cai has created an indelible cast of uniquely complicated characters. A spiky, intelligent narrator leads the story--readers will root for Audrey to win, even as her definition of triumph shifts with every chapter in this masterful debut.

Jean Chen Ho, author of Fiona and Jane
Burns with complexity and compassion . . . A fiercely narrated and deeply affecting novel about imperfect love, the willingness to try again, and generosity?to ourselves and to each other. Audrey's unforgettable story of self-discovery will speak to anyone who has ever stood on the precipice of change, who has ever felt in between, and who has ever wondered if looking back is part of moving forward.

Elaine Hsieh Chou, author of Disorientation
Burns with complexity and compassion . . . A fiercely narrated and deeply affecting novel about imperfect love, the willingness to try again, and generosity?to ourselves and to each other. Audrey's unforgettable story of self-discovery will speak to anyone who has ever stood on the precipice of change, who has ever felt in between, and who has ever wondered if looking back is part of moving forward.

Elaine Hsieh Chou, author of Disorientation
Delia Cai's sharp, swiftly moving, darkly funny debut novel….[is a] compassion filled delight

The Times, Book of the Month
Delia Cai's sharp, swiftly moving, darkly funny debut novel….[is a] compassion filled delight

The Times, Book of the Month
[A] sharp, assured debut

Daily Mail
[A] sharp, assured debut

Daily Mail