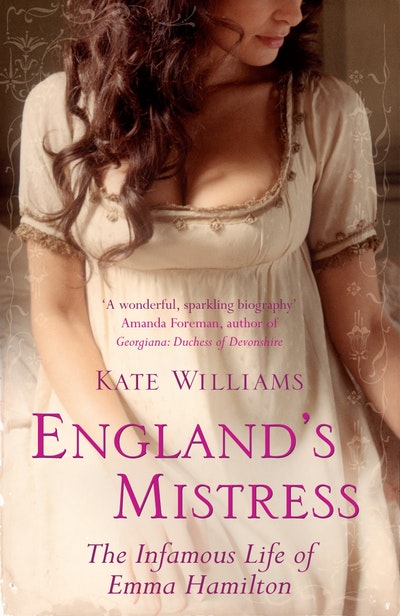 Published:

1 August 2007

ISBN:

9780099451839

Imprint:

Arrow

Format:

Paperback

Pages:

464

RRP:

$27.99
Cats: Homoeopathic Remedies
---
---
---
As a self-made celebrity, Emma Hamilton's rise from prostitute to consort of the most famous man in England has a very contemporary zing
A dramatic, sparkling tale of sex, glamour, intrigue, romance and heartbreak, England's Mistress traces the rise and rise of the gorgeous Emma Hamilton.
Born into poverty, she clawed her way up through London's underworlds of sex for sale to become England's first media superstar. Nothing could stand in the way of her dreams- except her self-destructive desires.
Drawing on hundreds of previously undiscovered letters, and told with a novelist's flair, England's Mistress captures the relentless drive, innovative style and burning passion of a true heroine. In a world of tabloid fame and three-minute wonders, Emma's life is truly a tale for our time.
Published:

1 August 2007

ISBN:

9780099451839

Imprint:

Arrow

Format:

Paperback

Pages:

464

RRP:

$27.99
Praise for Cats: Homoeopathic Remedies
Sparkling like Emma's pawned diamonds ... Finally makes us understand why Nelson needed to be prised out of Emma's embrace to fight Napoleon...

Daily Mail
It is the thoroughness of the research and attention to detail that make Kate Williams' new biography of Emma Hamilton so interesting. The iconic Emma has been continuously reimagined since her lover Nelson's death, but Williams offers a new portrait.

Independent
Kate Williams has done a wonderful job recreating the life of the woman she wants us to relate to...This is an immensely colourful, readable portrait that revels in Emma's resilience and her ability to surmount what look to us now to be unimaginable odds.

Independent on Sunday
Gallops along like a gripping novel, with an utterly believable and sympathetic character at its heart

Chesire Life
Reveals the woman behind the myths

Northern Echo
Utterly absorbing ... tantalizing

City AM
A wonderful sparkling biography

Amanda Foreman, author of GEORGIANA: DUCHESS OF DEVONSHIRE
In this pacey retelling of a classic love story, Kate Williams has created a sparkling life worthy of Emma herself. A new biography for a new generation.

Stella Tillyard, author of A ROYAL AFFAIR
Popular history at its best

David Liss, author of A SPECTACLE OF CORRUPTION
Every intricate detail is laid out, and Kate Williams' writing is so immediate, you feel all but transported...

Birmingham Post
From Soho tart to glamour model, diplomatic wife in Naples to the most famous extra-marital passion in UK history: Emma Hamilton's amazing tale is hardly unfamiliar. Williams tells it shrewdly and well, with access to recently discovered leter and a sharp contemporary spin. IN her skilled hands, Lord Nelson's lover, for all her "charisma, intelligence and charm" falls foul both of ingrained misogyny and a fledgling culture that both gave her stardom and exacted a fearsome price.

Independent
Lively, sympathetic and meticulously researched

Sunday Telegraph
Williams account is both balanced and evocative...[Emma Hamilton's] ruthless but romantic pursuit of celebrity is so close to our own time that the story barely needs contemporary parallels.

Sunday Times
This rich and bouncy biography of a driven woman - mad for fashion, mad on passion - makes Posh look like a novice.

Good Housekeeping