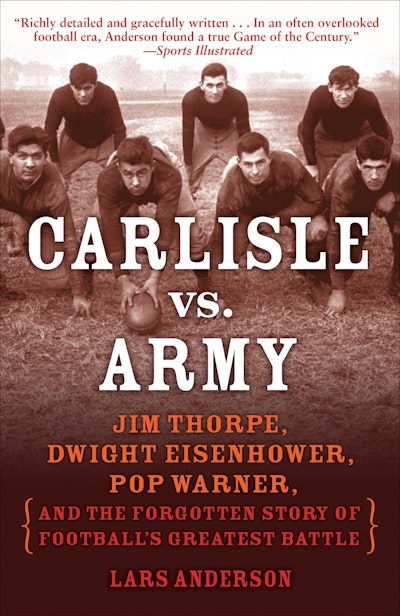 Published:

15 November 2008

ISBN:

9780812977318

Imprint:

Random House US Group

Format:

Trade Paperback

Pages:

368

RRP:

$29.99
Carlisle vs. Army
Jim Thorpe, Dwight Eisenhower, Pop Warner, and the Forgotten Story of Football's Greatest Battle
---
---
In this stunning work of narrative nonfiction, Lars Anderson recounts one of college football's greatest contests: Carlisle vs. Army, the fateful 1912 gridiron clash that had far-reaching implications both real and symbolic.
The story centers on three men: Glenn "Pop" Warner, who came to the Carlisle Indian School in 1903 and saw beyond its assimilationist agenda, molding the Carlisle Indians into a football juggernaut and smashing prejudices along the way; Jim Thorpe, who arrived at Carlisle as a troubled teenager–only to become one of America's finest athletes, dazzling his opponents and gaining fans across the nation; and a hardnosed Kansan back named Dwight Eisenhower, who knew that by stopping Carlisle's amazing winning streak, he could lead the Cadets of Army to glory. But beyond recounting the tale of this momentous match, Lars Anderson reveals its broader social and historical context, offering unique perspectives on sports and culture at the dawn of the twentieth century.
Filled with colorful period detail, Carlisle vs. Army gives a thrilling, authoritative account of the events of an epic afternoon whose reverberations would be felt for generations.
Praise for Carslisle vs. Army:
"Richly detailed and gracefully written . . . In an often overlooked football era, Anderson found a true Game of the Century."
–Sports Illustrated
"[A] remarkable story . . . Carlisle vs. Army is about football the way that The Natural is about baseball."
–Jeremy Schaap, author of Cinderella Man
"A great sports story, told with propulsive narrative drive . . . Anderson allows himself to get inside the heads of his characters, but as in the best sports-centered nonfiction (Hillenbrand's Seabiscuit and Frost's Greatest Game Ever Played, for example), the technique is based on solid research."
–Booklist (starred review)
"A masterly tale of the gridiron."
–Neal Bascomb, author of Red Mutiny
"A magnificent story that's as rich in American history as it is in sporting lore. Carlisle vs. Army is a dramatic and moving book, told with an unrelenting grace."
–Adrian Wojnarowski, author of The Miracle of St. Anthony
"Gripping, inspiring coverage of three powerful forces' unforgettable convergence: the sports version of The Perfect Storm."
–Kirkus Reviews
Published:

15 November 2008

ISBN:

9780812977318

Imprint:

Random House US Group

Format:

Trade Paperback

Pages:

368

RRP:

$29.99