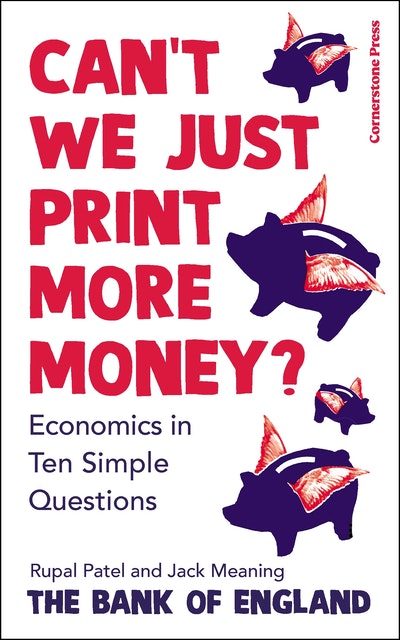 Published:

17 June 2022

ISBN:

9781847943385

Imprint:

Random House Business

Format:

Trade Paperback

Pages:

304

RRP:

$39.99
Can't We Just Print More Money?
A Crash Course in Economics in Ten Questions
---
---
An accessible guide to how economics defines all of our lives - the first ever book from the Bank of England.
What is economics?
How can it help explain the world?
And why should we care?
Our world is shaped by economics. Whether you're buying a loaf of bread, looking for a job, or applying for a mortgage, the thing we call 'the economy' is going to set the terms. A shame, then, that most of us have no idea what the economy actually is.
That's where this book comes in. The Bank of England is Britain's most venerable financial institution, responsible for printing money, setting the rate of interest and regulating the economy. Now, the team at the Bank take you inside their hallowed halls to outline precisely what economics can - and can't - tell us about the world.
Organised around the ten key questions any budding economist should be able to answer, this primer takes you from the basics - what economics actually is, and the laws of supply and demand - before moving onto how economics defines all of our lives: through growth and inflation, trade and recessions, taxes and spending. Along the way, it offers vivid examples of econ in action: not only in the City of London, but also in office canteens, on factory floors, even on Love Island . . .
Witty, absorbing and eminently accessible, this bookis your one-stop guide to the economic universe we all inhabit.

Published:

17 June 2022

ISBN:

9781847943385

Imprint:

Random House Business

Format:

Trade Paperback

Pages:

304

RRP:

$39.99