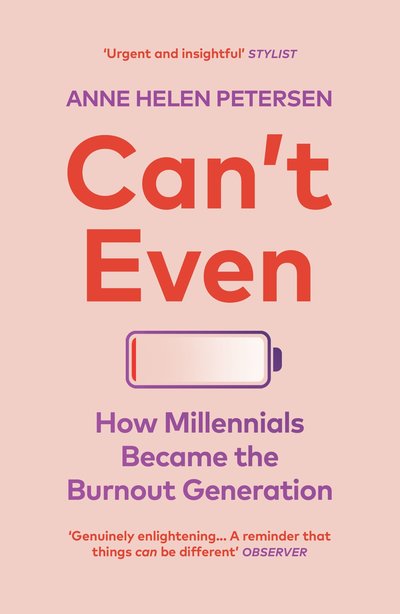 Published:

15 June 2022

ISBN:

9781529112283

Imprint:

Vintage

Format:

Paperback

Pages:

320

RRP:

$22.99
Can't Even
How Millennials Became the Burnout Generation
---
---
---
An incendiary examination of burnout in millennials - the cultural shifts that got us here, the pressures that sustain it and the need for drastic change
An incendiary examination of burnout - what got us here, the pressures that sustain it and the need for drastic change
Are you tired, stressed and trying your best but somehow it's never enough?
Does your job seep into your evenings and your home life creep into your work?
Does the bottom half of your To Do list feel unreachable?
This is burnout and it is affecting how we work, parent, socialise and live.
Through her own experience, original interviews and detailed analysis, Anne Helen Petersen traces the institutional and generational causes of burnout. And, in doing so, she helps us to let go of our guilt and imagine a possible future.
'Genuinely enlightening... Can't Even is a reminder to the burned out generation that things can be different' Observer
Published:

15 June 2022

ISBN:

9781529112283

Imprint:

Vintage

Format:

Paperback

Pages:

320

RRP:

$22.99
Whether you're looking for solutions or just looking to feel seen, Can't Even is a can't-miss

Harper's Bazaar, "27 Best Books of 2020"
We think of capitalism as a way of organizing an economy. But given enough time, it goes beyond that: It organizes our lives, our hopes, our relationships. Anne Helen Petersen has written an analytically precise, deeply empathic book about the psychic toll modern capitalism has taken on those shaped by it. Can't Even is essential to understanding our age, and ourselves

Ezra Klein, Vox co-founder and author of Why We're Polarized
A cogent and sober analysis of the economic lives that decades of precarity has wrought, told in Petersen's smart, measured style

Tressie McMillan Cottom, author of the National Book Award finalist Thick
Reading this incredible book, I had the overwhelming feeling of someone arranging the chaotic fragments of my life into a cohesive whole. Can't Even felt like a field guide, a mirror, and an absolution. Compassionate, wise, and incisive, it is a defining work about a generation defined by work

Ed Yong, author of I Contain Multitudes
Can't Even is a compelling exploration of the phenomenon of burnout and how an entire generation has been set up to fail. As a Millennial, reading this book was a deeply cathartic experience. Anne Helen Petersen articulates the struggles and motivation of a generation so impeccably. Reading this book made me feel like finally, someone understands me. I wish I could give this book to everyone I know

Taylor Lorenz, culture reporter, New York Times
Peterson explores how low-paying jobs, overstimulation, and unattainable expectations have contributed to millennial malaise in this trenchant and well-researched account... By turns exasperated, indignant, and empathetic, she supports her claims with strong evidence and calls on millennials to be a force for widespread social change. The result is an incisive portrait of a generation primed for revolt

Publisher's Weekly
[A] razor sharp book of cultural criticism...With blistering prose and all-too vivid reporting, Petersen lays bare the burnout and despair of millennials, while also charting a path to a world where members of her generation can feel as if the boot has been removed from their necks

Esquire
Petersen's third book, a highlight-every-sentence-in-recognition survey of the anxiety and exhaustion baked into the lives of myriad young people, dispels many of the myths and misconceptions-the laziness! the entitlement!-surrounding the generation that came of age amid the internet and economic collapse. Yet rather than pit millennials against boomers, Petersen makes meaningful and constructive connections between the toils and troubles of the two groups

O Magazine
Can't Even seeks to unearth the root of our generation's angst... Peterson's personal interjections and deft contextualisation of current issues with American history and politics...[and] the toll of the pandemic on our mental health makes her research feel all the more timely

Eleanor Halls, Daily Telegraph
The author is astute in unpicking the many factors that led to a whole generation feeling constantly exhausted... Can't Even is comforting in its insistence that it's not your fault you feel this tired... genuinely enlightening... Can't Even is a reminder to the burned out generation that things can be different

Holly Williams, Observer
Meticulously researched... astutely observed... extremely enlightening

Guardian
Urgent and insightful book... Read this and get a much-needed perspective

Stylist
An intelligent and well-researched analysis... To those born into the same generation, its truth is searing

Sunday Times
A readable, well-researched guide to a generation

The Times, *Book of the Week*
Relevant to everyone living under capitalism

New Statesman