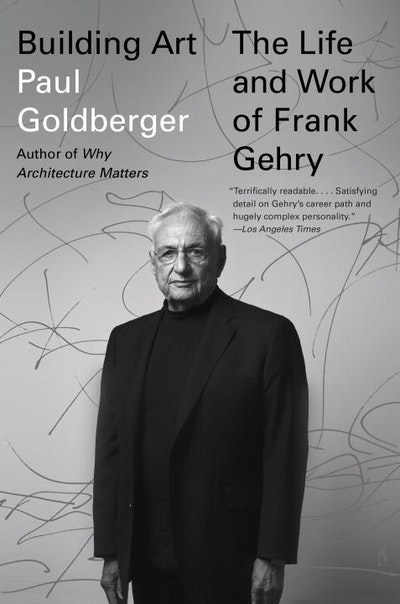 Published:

13 November 2017

ISBN:

9780307946393

Imprint:

Knopf US

Format:

Trade Paperback

Pages:

528

RRP:

$45.00
Building Art
The Life and Work of Frank Gehry
---
---
From Pulitzer Prize–winning architectural critic Paul Goldberger: an engaging, nuanced exploration of the life and work of Frank Gehry, undoubtedly the most famous architect of our time. This first full-fledged critical biography presents and evaluates the work of a man who has almost single-handedly transformed contemporary architecture in his innovative use of materials, design, and form, and who is among the very few architects in history to be both respected by critics as a creative, cutting-edge force and embraced by the general public as a popular figure.
Building Art shows the full range of Gehry's work, from early houses constructed of plywood and chain-link fencing to lamps made in the shape of fish to the triumphant success of such late projects as the spectacular art museum of glass in Paris. It tells the story behind Gehry's own house, which upset his neighbors and excited the world with its mix of the traditional and the extraordinary, and recounts how Gehry came to design the Guggenheim Museum in Bilbao, Spain, his remarkable structure of swirling titanium that changed a declining city into a destination spot. Building Art also explains Gehry's sixteen-year quest to complete Walt Disney Concert Hall, the beautiful, acoustically brilliant home of the Los Angeles Philharmonic.
Although Gehry's architecture has been written about widely, the story of his life has never been told in full detail. Here we come to know his Jewish immigrant family, his working-class Toronto childhood, his hours spent playing with blocks on his grandmother's kitchen floor, his move to Los Angeles when he was still a teenager, and how he came, unexpectedly, to end up in architecture school. Most important, Building Art presents and evaluates Gehry's lifetime of work in conjunction with his entire life story, including his time in the army and at Harvard, his long relationship with his psychiatrist and the impact it had on his work, and his two marriages and four children. It analyzes his carefully crafted persona, in which a casual, amiable "aw, shucks" surface masks a driving and intense ambition. And it explores his relationship to Los Angeles and how its position as home to outsider artists gave him the freedom in his formative years to make the innovations that characterize his genius. Finally, it discusses his interest in using technology not just to change the way a building looks but to change the way the whole profession of architecture is practiced.
At once a sweeping view of a great architect and an intimate look at creative genius, Building Art is in many ways the saga of the architectural milieu of the twenty-first century. But most of all it is the compelling story of the man who first comes to mind when we think of the lasting possibilities of buildings as art. 
From the Hardcover edition.
Published:

13 November 2017

ISBN:

9780307946393

Imprint:

Knopf US

Format:

Trade Paperback

Pages:

528

RRP:

$45.00
"Goldberger's big, colorful biography is a tale of moxie and success in the New World . . . an encounter with an architect who is ambitious, cocky and clever—and [a guide who] will present him with a wry and trenchant perspective . . . An informative, startling journey into the inner sanctums of modern architecture's power structure."—Nicholas Fox Weber, The New York Times Book Review "If you're interested in Frank Gehry, the creative force who has conjured up everything from the ebullient billows of the Bilbao Guggenheim to the strong lines of our very own Concord Pavilon from 1975, I can't recommend this expansive survey of his life and work too highly."--John King, San Fransisco Chronicle "An enthralling story . . . more gripping than any novel . . . Gives a deep insight into the life of a revolutionary architect and modern architecture. Both architects and lay people who are itnerested in arts and architecture will benefit from it."--The Washington Post Book Review "Excellent, comprehensive [and] undeniably fascinating . . . Mirroring the rise of contemporary architecture, Gehry emerges from the constraints of mid-century modernism, grapples with questions of urban development and human scale . . . To a remarkable extent, he seems to have found a language of his own, which he can finally and fully articulate."--James Tarmy, Bloomberg Business "Fascinating . . . Agilely balances the disparate subjects of art and biography. Goldberger's critical assessments of Gehry's designs are insightful and often riveting, but he does not neglect the prosaic details of the man's personal life."--Doug Childers, Richmond Times-Dispatch "A big biography . . . penetrating . . . revealing"-Susan Stamberg, NPR "A critically fluent, socially and psychologically acute, and well-constructed comprehensive biography, the first of the 'most famous architect in the world.' . . . With avid precision and invaluable insight, Goldberger charts the complicated, punishing battles Gehry waged to construct his ambitious, dreamworld buildings, from private homes to Guggenheim, Bilbao, the Walt Disney Concert Hall, Facebook headquarters, and beyond. The result is an involving work of significant architectural history and a discerning and affecting portrait of a daring and original master builder."--Donna Seaman, Booklist "A riveting storyteller and accomplished reporter . . . [Paul Goldberger] offers a comprehensive look at not only the stories behind Frank Gehry's acclaimed buildings but also the experiences and influences that shaped his life and work. His book is full of little-known facts about the Pritzker Prize-winner that will surprise the most knowledgable Gehry-philes."--Architectural Digest "Terrifically readable . . . satisfying detail on Gehry's career path and hugely complex personality."--Christopher Hawthorne, Los Angeles Times "[Goldberger] paints the architect as a down-to-earth sort who designs eminenty functional buildings that respond to their surroundings, exhibit continuity with the past, and embrace Earthlings despite looking like crashed spaceships. He contextualizes Gehry's work with smart discussions of trends in modernism and the Los Angeles art scene that inspired such trends, and offers his usual shrewd, evocative insights."--Publishers Weekly "This is a proper biography, being as much about the personal life of Gehry as it is about his buildings. It reads well, mostly avoiding archi-speak and technicalities, preferring the clarity of plain English."--Architectural Record "Goldberger interrogates the peculiar psyche and restless contradictions of the man to shed light on the motivations behind the architecture."--Samuel Medina, Metropolis "Wonderfully detailed . . . gregariously fascinating . . . invaluable . . . All future biographies will be indebted to Goldberger's groundbreaking, affectionate work."--Steve Donohghue, Open Letters Monthly "Richly researched, intelligent, and graceful."--Kirkus Reviews From the Hardcover edition.