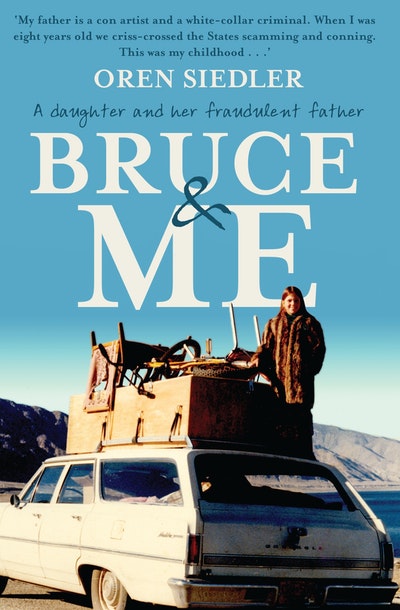 Published:

1 May 2010

ISBN:

9781864714319

Imprint:

Random House Australia

Format:

EBook

Pages:

386
Bruce And Me
A Daughter and Her Fraudulent Father
---
---
---
'My father is a con artist and a white-collar criminal. When I was eight years old we criss-crossed the States scamming, conning, and leaving the extra for folks in need. This was my childhood...'
'My father is a con artist and a white-collar criminal. When I was eight years old we criss-crossed the States scamming, conning, and leaving the extra for folks in need. This was my childhood...'
As a child of divorced parents, separated by continents, Oren Siedler's childhood was split into six-month segments. Half the year was spent on a Buddhist retreat centre in Australia with her hippie mother and stepfather, the other half on the road in the States with her outlaw father... unless he was in jail.
She loved her unconventional time with him: to a young girl he was admirable, commanding, mythical, beyond all rules. But then the spell was broken. Needing to remember countless aliases, birth dates and addresses, and living in constant fear of spot-checks and losing her father to jail, she became disillusioned and began to reject his views and lifestyle. Why couldn't he be like other fathers?
Bruce And Me explores the inner-workings of a complex and unique father/daughter relationship, and all the adventures and mishaps along the way. Reminiscent of a 1970s road movie, this is Catch Me If You Can meets Paper Moon, meets Five Easy Pieces.
Published:

1 May 2010

ISBN:

9781864714319

Imprint:

Random House Australia

Format:

EBook

Pages:

386