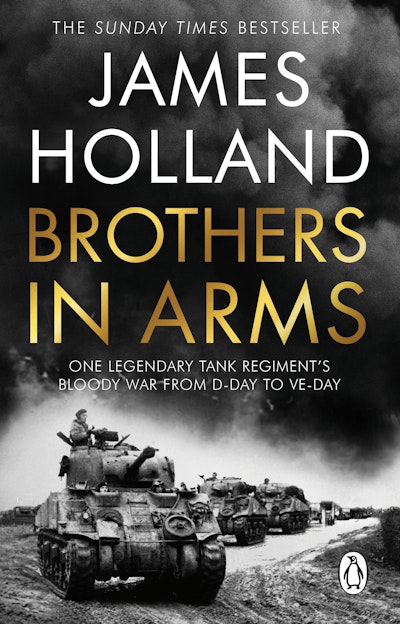 Published:

30 September 2021

ISBN:

9781473588899

Imprint:

Transworld Digital

Format:

EBook

Pages:

592
Brothers in Arms
One Legendary Tank Regiment's Bloody War from D-Day to VE-Day
---
---
---
Through compelling eye-witness testimony and renowned historian James Holland's expert analysis Brothers In Arms brings to vivid life the final bloody scramble across Europe from the powerful perspective of one of the greatest tank regiments: the Sherwood Rangers.
From the bestselling author of Normandy '44 and Sicily '43, a brilliant new history of the last days of the war
'Seldom is war so vividly described...An assault on the senses...Painful to read, impossible to put down' Gerard DeGroot, The Times BOOK OF THE WEEK
'Epic and moving...Holland brings this cramped universe vividly to life' Patrick Bishop, Daily Telegraph
It took a certain type of courage to serve in a tank in World War Two. Encased in steel, surrounded by highly explosive shells, a big and slow-moving target, every crew member was utterly vulnerable to enemy attack from all sides. Living - and dying - in a tank was a brutal way to fight a war.
The Sherwood Rangers were one of the great tank regiments. They had learned their trade the hard way, under the burning sun of North Africa, on the battlefields of El Alamein and Alam el Halfa. By the time they landed on Gold Beach on D-Day, they were toughened by experience and ready for combat.
From that moment on, the Sherwood Rangers were in the thick of the action til the war's end. They and their Sherman tanks covered thousands of miles and endured some of the fiercest fighting in Western Europe. The first British unit to cross into Germany, their engagements stretch from the Normandy beaches, to the bridges at Eindhoven, and the grinding crossing of the Siegfried Line and on into the Nazi heartland.
Published:

30 September 2021

ISBN:

9781473588899

Imprint:

Transworld Digital

Format:

EBook

Pages:

592
Praise for Brothers in Arms
Their [the Sherwood Rangers] story can be seen as a reflection of the British war as a whole and Holland tells it very well, using his trademark technique of immersive detail and a cast of well-defined characters. If you are a fan of his style and I am, you will find that once again it works brilliantly

Patrick Bishop, Daily Telegraph
War as it should be described - ordinary men facing extraordinary horror. Caught in the drama of battle, we sometimes forget the good men who died. Holland, to his credit, forces us to remember

Gerard DeGroot, The Times BOOK OF THE WEEK