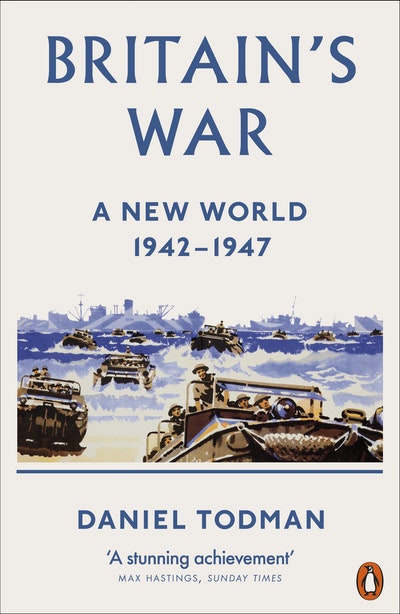 Published:

7 November 2019

ISBN:

9780241250006

Imprint:

Penguin eBooks

Format:

EBook

Pages:

976
Britain's War
A New World, 1942-1947
---
---
---
'A stunning achievement, offering a new generation of readers and students an authoritative and original version of the greatest event in human history' Max Hastings, Sunday Times
The second part of Daniel Todman's epic history of the Second World War opens with one of the greatest disasters in British military history - the fall of Singapore in February 1942. Unlike the aftermath of Dunkirk, there was no redeeming narrative available here. Britain had been defeated by a far smaller Japanese force in her grandly proclaimed, invincible Asian 'fortress'.
The unique skill of Daniel Todman's history lies in its never losing sight of the inter-connectedness of the British experience. The agony of Singapore, for example, is seen through the eyes of its inhabitants, of its defenders, of Churchill's Cabinet and of ordinary people at home. Each stage of the war, from the nadir of early 1942 to the great series of victories in 1944-5 and on to Indian independence, is described both as it was understood at the time and in the light of the very latest historical research.
Britain's War is a triumph of narrative, empathy and research, as gripping in its handling of individual witnesses to the war - those doomed to struggle with bombing, rationing, exhausting work and above all the absence of millions of family members - as of the gigantic military, social, technological and economic forces that swept the conflict along. It is the definitive account of a drama which reshaped our country.
Published:

7 November 2019

ISBN:

9780241250006

Imprint:

Penguin eBooks

Format:

EBook

Pages:

976
Dan Todman has written a truly global history of Britain's Second World War. His second volume opens in December 1941. Even then, Britons knew that victory would come; not when, not at what cost, but they knew victory would be theirs one day. How they got there is at the core of this book. His account is particularly striking on the tides of war in the Middle East and in Asia; on the Labour party electoral victory of 1945, and on the origins of the Cold War. Fast-paced, accessible, comprehensive; in short, a triumph.

Jay Winter, Charles J. Stille Professor of History Emeritus at Yale University
Magisterial. Virtually no aspect of British life is left untouched ... I cannot recommend this history highly enough.

Keith Lowe, Literary Review
A stunning achievement, offering a new generation of readers and students an authoritative and original version of the greatest event in human history.

Max Hastings, Sunday Times
The best one-stop shop for those wanting to understand our country during its last existential crisis ... epic, compendious, written with confidence and verve.

David Aaronovitch, The Times
Deserves to become a classic ... Todman is superb at human detail; but he is equally at home discussing grand strategy, war economics, campaigning, socio-cultural aspects and the political-military interface... a magnificent book.

Allan Mallinson, The Spectator
This second volume is as skilful as the first ... Todman brings youth, energy, industry and, above all, rare historical talent to his formidable task.

Peter Clarke, The Guardian
Meticulously researched and densely detailed, shrewdly observed... excellent.

Alan Allport, Wall Street Journal
A staggering look at this country and the second world war... Todman is as good on the social aspects of the war as he is on the political and military. Both volumes come highly recommended.

Paul Donnelley, Daily Express
The book is a superb work of research and synthesis, and with its predecessor it completes an account of the British war that will prove hard to surpass... Todman takes us to the threshold of the world in which we live in. One of the prime ordinances of history is that it should help those who read it understand why we are where we are, who we are and how we are. Todman achieves that goal magnificently.

Simon Heffer, Daily Telegraph
Exceptional ... Todman's angle of vision does not follow the conventional Anglo-American narrative of the last three years of war. He rightly sees the imperial dimension as a critical factor in the formation of British strategy.

Richard Overy, Times Literary Supplement