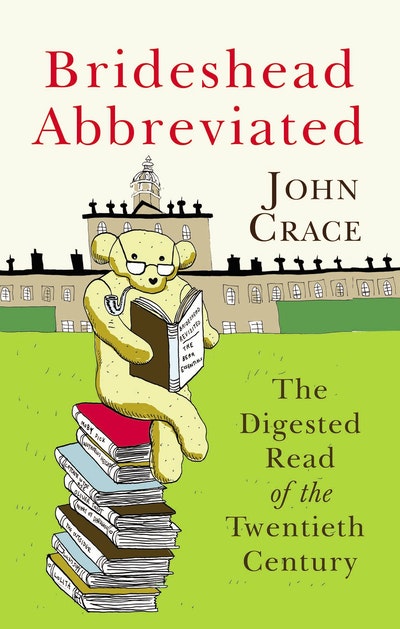 Published:

15 October 2011

ISBN:

9780099505457

Imprint:

Arrow

Format:

Paperback

Pages:

368

RRP:

$19.99
Brideshead Abbreviated
The Digested Read of the Twentieth Century
---
---
---
John Crace, creator of the Guardian's 'Digested Read' column, hilariously summarises the great - and not so great - classics of modern literature
John Crace's 'Digested Read' column in the Guardian has rightly acquired a cult following. Each week fans avidly devour his latest razor-sharp literary assassination, while authors turn tremblingly to the appropriate page of the review section, fearful that it may be their turn to be mercilessly sent up.
Now he turns his critical eye on the classics of the last century, offering bite-sized pastiches of everything from Mrs Dalloway to Trainspotting via Lolita and The Great Gatsby. Those who have never quite got around to reading A Portrait of the Artist as a Young Man will be delighted to find its essence distilled into a handful of paragraphs. Those who have never really enjoyed Lord of the Flies will be pleased to find it hilariously parodied in an easily swallowable 982 words. And those who find all such works a little highbrow will be relieved to discover, between the covers of this book, John Crace's take on the likes of Ian Fleming, P. G. Wodehouse and the Highway Code.
Witty and sharp, this is essential reading both for those who genuinely love literature and for those who merely want to appear ridiculously well read.
Published:

15 October 2011

ISBN:

9780099505457

Imprint:

Arrow

Format:

Paperback

Pages:

368

RRP:

$19.99
Praise for Brideshead Abbreviated
A swift kick up the backside to some of modern literature's most iconic works. Accurate, merciless and very, very funny

Sarah Waters
I've read all these books at least twice - and now I've read John Crace's digested versions I wonder why I bothered

Will Self
A genius and a madman. The meanest, funniest parodist alive

Joanna Briscoe
For the last 10 years [Crace's] 'Digested Reads' have been reason enough to buy the Guardian. Taking a well-known novel, he gives a brief distillation of the plot while capturing - often perfectly - the tone of its author. At the same time, he jabs a sharpened elbow into their pomposities and limitations

Spectator
Beautifully observed and poisonously cruel ... laugh-out-loud funny

The Lady
With witty, accurate impressions of writers' styles, this is the best way to appear incredibly well read without getting bogged down in hundreds of pages of James Joyce or Ernest Hemingway

Reader's Digest
A fun read ... Crace takes no prisoners as he chews up and spits out a century of literature. An amusing treat for the well-read and a fantastic cheat's guide for those who feel they probably should have read more

Press Association
One hundred classics of modern literature are wickedly abridged by a smart satirist

Saga