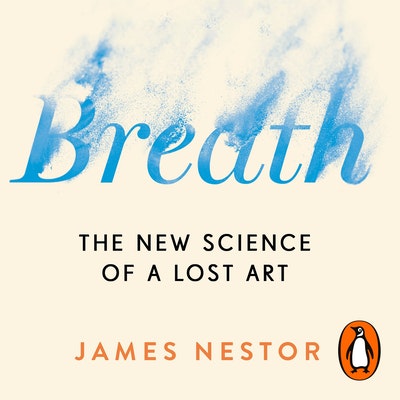 Published:

21 May 2020

ISBN:

9780241990223

Imprint:

Penguin Audio

Format:

Audio Download

RRP:

$27.99
Breath
The New Science of a Lost Art
---
---
---
No matter what you eat, how much you exercise, how skinny or young or wise you are, none of it matters if you're not breathing properly.
Brought to you by Penguin. Narrated by James Nestor
"Who would have thought something as simple as changing the way we breathe could be so revolutionary for our health, from snoring to allergies to immunity? A fascinating book, full of dazzling revelations." (Dr Rangan Chatterjee)
"I highly recommend this book." (Wim Hof)
There is nothing more essential to our health and wellbeing than breathing: take air in, let it out, repeat 25,000 times a day. Yet, as a species, humans have lost the ability to breathe correctly, with grave consequences. Journalist James Nestor travels the world to figure out what went wrong and how to fix it.
The answers aren't found in pulmonology labs, as we might expect, but in the muddy digs of ancient burial sites, secret Soviet facilities, New Jersey choir schools, and the smoggy streets of São Paulo, Brazil. Nestor tracks down men and women exploring the hidden science behind ancient breathing practices like Pranayama, Sudarshan Kriya and Tummo and teams up with pulmonary tinkerers to scientifically test longheld beliefs about how we breathe.
Modern research is showing us that making even slight adjustments to the way we inhale and exhale can jump-start athletic performance, rejuvenate internal organs, halt snoring, allergies, asthma and autoimmune disease, and even straighten scoliotic spines. None of this should be possible, and yet it is.
Drawing on thousands of years of medical texts and recent cutting-edge studies in pulmonology, psychology, biochemistry and human physiology, Breath turns the conventional wisdom of what we thought we knew about our most basic biological function on its head.
You will never breathe the same again.
Published:

21 May 2020

ISBN:

9780241990223

Imprint:

Penguin Audio

Format:

Audio Download

RRP:

$27.99
'Who would have thought something as simple as changing the way we breathe could be so revolutionary for our health? James Nestor is the perfect guide to the pulmonary world and has written a fascinating book, full of dazzling revelations'

Dr Rangan Chatterjee
'Who would have thought something as simple as changing the way we breathe could be so revolutionary for our health? James Nestor is the perfect guide to the pulmonary world and has written a fascinating book, full of dazzling revelations'

Dr Rangan Chatterjee
'Who would have thought something as simple as changing the way we breathe could be so revolutionary for our health? James Nestor is the perfect guide to the pulmonary world and has written a fascinating book, full of dazzling revelations'

Dr Rangan Chatterjee
'Who would have thought something as simple as changing the way we breathe could be so revolutionary for our health? James Nestor is the perfect guide to the pulmonary world and has written a fascinating book, full of dazzling revelations'

Dr Rangan Chatterjee
'I highly recommend this book'

Wim Hof, on Instagram
'I highly recommend this book'

Wim Hof, on Instagram
'I highly recommend this book'

Wim Hof, on Instagram
'I highly recommend this book'

Wim Hof, on Instagram
'If there's one book you read this year, make it this one'

Chris Evans
'If there's one book you read this year, make it this one'

Chris Evans
'If there's one book you read this year, make it this one'

Chris Evans
'If there's one book you read this year, make it this one'

Chris Evans
'In the past few years, there have been several potentially life-changing books, from Matthew Walker's Why We Sleep and Shane O'Mara's In Praise of Walking, to Norman Doidge's The Brain's Way of Healing. Breath deserves a place alongside such volumes. Read it, and I guarantee you will want to change the way you breathe'

<i>Evening Standard</i>
'In the past few years, there have been several potentially life-changing books, from Matthew Walker's Why We Sleep and Shane O'Mara's In Praise of Walking, to Norman Doidge's The Brain's Way of Healing. Breath deserves a place alongside such volumes. Read it, and I guarantee you will want to change the way you breathe'

<i>Evening Standard</i>
'In the past few years, there have been several potentially life-changing books, from Matthew Walker's Why We Sleep and Shane O'Mara's In Praise of Walking, to Norman Doidge's The Brain's Way of Healing. Breath deserves a place alongside such volumes. Read it, and I guarantee you will want to change the way you breathe'

<i>Evening Standard</i>
'In the past few years, there have been several potentially life-changing books, from Matthew Walker's Why We Sleep and Shane O'Mara's In Praise of Walking, to Norman Doidge's The Brain's Way of Healing. Breath deserves a place alongside such volumes. Read it, and I guarantee you will want to change the way you breathe'

<i>Evening Standard</i>
'James Nestor's fascinating new book is playful and optimistic'

<i>Spectator</i>
'James Nestor's fascinating new book is playful and optimistic'

<i>Spectator</i>
'James Nestor's fascinating new book is playful and optimistic'

<i>Spectator</i>
'James Nestor's fascinating new book is playful and optimistic'

<i>Spectator</i>
Article
Article