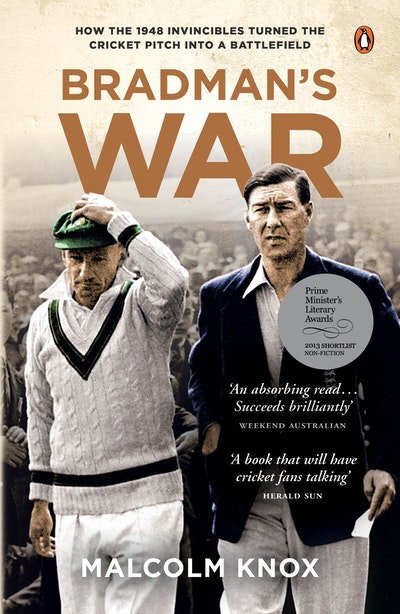 Published:

26 September 2012

ISBN:

9781742536606

Imprint:

Penguin eBooks

Format:

EBook

Pages:

448
Bradman's War
---
---
---
Bradman's War celebrates the talents of Ray Lindwall, Sid Barnes, Lindsay Hassett, Bill Johnston, Arthur Morris and, of course, their irrepressible captain, but wonders if the Don's single-minded tactics, even against the war-ravaged veterans of the country clubs, cost Test cricket the opportunity to be played for the love of the game. 

Shortlisted for the 2013 Prime Minister's Literary Awards.
The Australian and English Test cricketers who fought and survived together in WWII came home planning to resume the Ashes in a new spirit of friendship.
Australia's legendary captain had something else in mind.
The 1948 'Invincibles' are the only Australian team to complete a tour of England undefeated.  In his compelling account, Malcolm Knox exposes the mixed feelings among the fans, commentators and players – from both teams – about the manner in which their feats were achieved.  At its heart was a rift between players who had experienced the horrors of active duty, epitomised by the fiery RAAF pilot Keith Miller, and those who had not, such as the invalided Bradman. 
Bradman's War celebrates the talents of Ray Lindwall, Sid Barnes, Lindsay Hassett, Bill Johnston, Arthur Morris and, of course, their irrepressible captain, but wonders if the Don's single-minded tactics, even against the war-ravaged veterans of the country clubs, cost Test cricket the opportunity to be played for the love of the game. 
'The last word on a seminal chapter in Australian sporting history.'  Inside Sport
'An excellent work by an outstanding journalist.'  Courier-mail
'Poised and evocative.'  The Age
Published:

26 September 2012

ISBN:

9781742536606

Imprint:

Penguin eBooks

Format:

EBook

Pages:

448
An important study of the game at a crucial moment, as well as a closely argued deconstruction of the icon who presided over that moment ... poised and evocative.

The Age
An entertaining and informative narrative that reassesses the legacy of Bradman in an effective and sensitive manner.

Canberra Times
Nothing short of a compelling read.

Ballarat Courier
... One of this country's best writers and keenest cricket minds ... The last word on a seminal chapter in Australian sporting history.

Inside Sport
Succeed[s] brilliantly, deepening and complicating a cherished Australian myth without dispelling it ... An absorbing read for those who like their cricket played in white rather than tree-frog green.

Weekend Australian
Knox has gone behind the headlines to launch a fast-paced and sometimes personal attack on a national hero ... Bradman's War is a book that will have cricket fans talking.

Herald Sun
This may well turn out to be the definitive work on the Invincibles.

Illawarra Mercury
An excellent work by an outstanding journalist.

Courier-Mail
Not just a cricket story, it looks at how the win-at-any-cost reputation began.

Geelong Advertiser
A meticulously researched and fascinating account of a magnificent team and its magnificent (if flawed) leader.

Townsville Bulletin
Those unfamiliar with the details, if they are lucky enough to read Mr Knox's book, will start with the best. Analytical, detailed and impeccably researched, Knox has produced a book of rare insight.

CricketWeb.net
Prime Minister's Literary Award
Shortlisted • 2013 • Non-Fiction