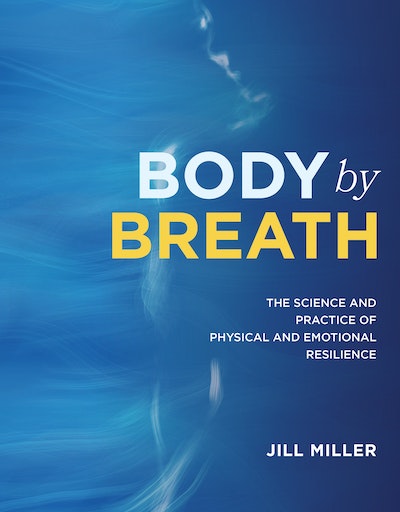 Published:

15 November 2022

ISBN:

9781628604467

Imprint:

Victory Belt Publishing

Format:

Paperback

Pages:

400

RRP:

$79.99
Body By Breath
The Science and Practice of Physical & Emotional Resilience
---
---
In the hierarchy of life, breath always wins. It will persist 24,000 times daily, but you get to decide whether the way you breathe is to your benefit or detriment.

Your breath is compromised by stress, disease, air pollution, global instability, and the environmental trappings of progress that can immobilize your body. While you can still breathe under this pressure, poor breathing habits slowly whittle away at your health.
In Body by Breath, bestselling author Jill Miller takes you beyond technical movement by guiding you to an internal reservoir that builds awareness, self-knowledge, and empathy. She shares her scientifically supported methods to train and modulate your nervous system for reduced stress, improved mobility, and whole-body resilience.
Jill reveals the latest findings in breath and fascia research and outlines how to get more out of breathwork practice by including more of your body's parts in the mix. She maps the vast reach of the diaphragm and helps you feel how it intermingles with everything in your body. You'll travel the pathways of the vagus nerve and trace miles of fascial intersections beneath your skin. Explore an inner treasure chest of tools and practices to activate a cascade of positive effects:
• Greater power, endurance, and recuperative ability
• Enhanced emotional self-regulation skills
• Increased tolerance for the daily grind and supercharged executive function
• Relief from pain, injuries, and chronic conditions
• Freedom to feel, connect, and express stored emotions
Body by Breath features a full step-by-step guide, including more than 100 techniques with full-color photos and sample practices that maximize your relaxation response to help you recover from the rigors of life and sport. Real-life success stories from survivors of adversity will inspire you to take these practices into your life and renew the way you embody breath.

Published:

15 November 2022

ISBN:

9781628604467

Imprint:

Victory Belt Publishing

Format:

Paperback

Pages:

400

RRP:

$79.99