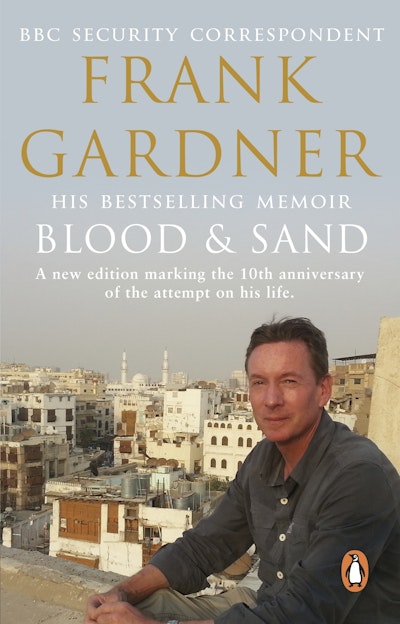 Published:

1 January 2011

ISBN:

9781446421123

Imprint:

Transworld Digital

Format:

EBook

Pages:

528
Blood and Sand
The BBC security correspondent's own extraordinary and inspiring story
---
---
---
June 2014 marks the 10th anniversary of the attempt on BBC security correspondent Frank Gardner's life - his bestselling memoir is reissued with a new chapter recounting his return to Saudi Arabia for the first time since that near-fatal day in 2004...
On the June 6, 2004, while on assignment in Riyadh, BBC security correspondent Frank Gardner and cameraman Simon Cumbers were ambushed by Islamist gunmen. Simon was killed outright. Frank was hit in the shoulder and leg. As he lay in the dust, a figure stood over him and pumped four more bullets into his body at point-blank range...
Against all the odds, Frank Gardner survived.
Today, although partly paralysed, Frank continues to travel the world, reporting and making documentaries for the BBC. This acclaimed memoir was brought up to date with a new chapter that recounted his return to Saudi Arabia for the first time since he was shot and the story he tells continues to move and inspire, and remains an affirmation of his deep understanding of - and affection for - the Islamic world in these uncertain times.
___

'Gardner tells his remarkable tale well and bravely, with an astonishing lack of anger and enduring love and respect for the Islamic world' SUNDAY TIMES
'Brave, unsentimental and genuinely inspiring' EVENING STANDARD 'What makes Gardner's moving, often humorous, deeply personal story so important is the fact that he has woven into it a brilliantly dispassionate, clear-eyed account of the Islamic world' SCOTSMAN
'A witty, self-deprecating, inspiring testament' DAILY TELEGRAPH
Published:

1 January 2011

ISBN:

9781446421123

Imprint:

Transworld Digital

Format:

EBook

Pages:

528
Praise for Blood and Sand
Blood and Sand is a remarkable book from a remarkable man

YORKSHIRE EVENING POST
A compelling autobiography

WOMAN'S WEEKLY
A witty, self-deprecating, inspiring testament

DAILY TELEGRAPH
An amazing true story about survival and overcoming adversity
Brave, unsentimental and genuinely inspiring

EVENING STANDARD
Chilling, graphic and admirably unsentimental... Gardner comes across as a modest, thoroughly decent man... an exemplary foreign correspondent

GUARDIAN
Frank's honest account of his life-changing experiences offers a message of hope in a dangerous and divided world

THE GOOD BOOK GUIDE
Gardner is a superb reporter; his terrible experience only make his analysis all the more telling

EVENING STANDARD
Gardner tells his remarkable tale well and bravely, with an astonishing lack of anger and enduring love and respect for the Islamic world

SUNDAY TIMES
His story, mixing the personal and the political, is both moving and insightful - a testament to one individual's will to overcome a terrible experience, and a powerful piece of reportage

BOOKS QUARTERLY
Recounting his injuries and painful rehabilitation, Gardner is witty and moving, capturing without any self-pity the horror of learning his legs don't work

OBSERVER
The book stands on its own merits... as a fine account of journalistic life and a brave account of Gardner's continuing struggle

EVENING STANDARD
The most endearing element of this book is the voice with which Gardner tells his stories - honest, compassionate and unassuming, he is a thoroughly likeable storyteller, ensuring that Blood and Sand makes for a fascinating read

CRUISE MAGAZINE
Vivid detail... entertaining anecdotes... Gardner is a tremendous model for what relations between East and West can be... a fine introduction both to journalism and to the culture of the Middle East

INDEPENDENT
What makes Gardner's moving, often humorous, deeply personal story so important is the fact that he has woven into it a brilliantly dispassionate, clear-eyed account of the Islamic world

SCOTSMAN
What makes Gardner's moving, often humorous, deeply personal story so important is the fact that he has woven into it a brilliantly dispassionate, clear-eyed account of the Islamic world which offers a unique insight into al-Qaeda

THE SCOTSMAN MAGAZINE
Written with honesty, integrity and humour, this is a powerful, haunting account of survival, of over-coming adversity and a determination to carry on - a moving and inspiring personal story

IN DUBLIN