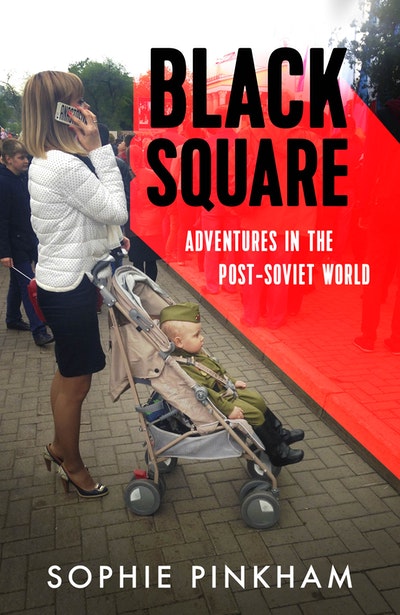 Published:

11 August 2016

ISBN:

9781473518339

Imprint:

Cornerstone Digital

Format:

EBook

Pages:

336
Black Square
Adventures in the Post-Soviet World
---
---
---
A captivating and original street-level account of a vexing and troubled region
'When I first lived in Ukraine, I was preoccupied with its ideas of the past and future. Once Maidan started, there was nothing but the present; every hour held the possibility of transformation, and of terrible violence…'
After leaving university in 2004, Sophie Pinkham moved to Siberia to volunteer for the Red Cross, tackling the rising AIDS crisis by folding origami tulips. Over the next decade, she travelled and worked across the post-Soviet world, from Lake Baikal to the Black Sea, at a time when the young countries of the region were struggling to define their new identities.
Black Square is a multidimensional portrait of a period of tumultuous change, and of a generation that came of age after the fall of the USSR, only to see protestors shot on Kiev's main square, Crimea annexed by Russia, and a bitter war in eastern Ukraine. We meet a charismatic doctor fighting the AIDS epidemic even as he struggles with his own drug addiction; an iconoclastic artist with a penchant for public nudity; and a Russian-Jewish clarinettist agitating for Ukrainian liberation.
With a deep knowledge of the literature and legends of the region, and a keen outsider's eye for the dark absurdities of post-Soviet society, Black Square delivers an indelible impression of a region, and a world, on the brink.
Published:

11 August 2016

ISBN:

9781473518339

Imprint:

Cornerstone Digital

Format:

EBook

Pages:

336
Sophie Pinkham is a wry, erudite observer of human foibles, political illusions, and funny hats. In Ukraine and its complex and tragic confrontation with Russia (and itself), she has found the perfect subject. Anyone who wants an explanation of Ukraine's recent history that goes beyond Kremlin propaganda and Western media oversimplification should read this book.

Keith Gessen, translator of 'Voices from Chernobyl'
Essential reading. What makes Black Square superb, to my mind, is Pinkham's keen eye for the dark comedy and tragedy that mark so many of her subjects. Her portraits of individual Ukrainians and Russians are as rich and nuanced as her synthesis of their national histories and politics. The result is a book whose literary achievement will outlast its timeliness.

Anthony Marra, author of 'A Constellation of Vital Phenomena'
Black Square is as elegant, suggestive, ominous, beautiful, and deceptively simple as, well, a black square. Perhaps the only thing more impressive than the sheer number and diversity of people Sophie Pinkham has spoken to is how deftly she has woven their stories into a single compulsively readable narrative.

Elif Batuman, author of 'The Possessed'
An empathetic and deeply humanising look at troubled times and dangerous, revolutionary days.

Peter Pomerantsev, author of 'Nothing is True and Everything is Possible'
Black Square is a remarkable historical memoir: humane, shocking and full of brilliant insight. Sophie Pinkham never succumbs to easy judgement. Her book is essential reading for anyone seeking a deeper understanding of the tragic and dangerous confrontation between Ukraine and Russia.

Rachel Polonsky, author of 'Molotov's Magic Lantern'
Black Square is a sharp-eyed portrait of Ukraine in post-Soviet times – funny and moving, sad and slyly ironic by turns. It's especially valuable in helping us to understand the deeper origins of the Maidan movement, and to see how the painful divisions running through Ukraine today have played out in everyday life. With a combination of sympathy and sceptical wit, Pinkham shows us an extraordinary, often baffling country in all its human complexity.

Tony Wood, author of 'Chechnya: The Case for Independence'
The first few chapters are a scrapbook, lively and engaging but coloured by the innocence of a soft-fleshed outsider in a weird and bone-hard world. The characters swim up, vivid and yet surreal.

Financial Times
Essential reading for anyone who cares about Ukraine, anyone who's wondering if they should care about Ukraine, and anyone who happens to like nonfiction narratives told in a human voice'.

Open Democracy
Pinkham provides a portrayal of the tug-of-war of what it means to be Ukrainian, where its language is source of pride, and its nationalism is a source of capriciousness.

The Culture Trip