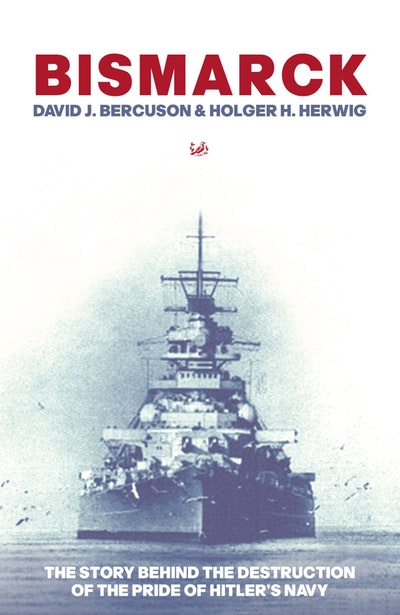 Published:

1 January 2011

ISBN:

9781446425671

Imprint:

Vintage Digital

Format:

EBook

Pages:

400
Bismarck
The Story Behind the Destruction of the Pride of Hitler's Navy
---
---
---
A dramatic retelling of one of the key incidents of World War II.
Late in the morning of 27 May 1941, the German battleship Bismarck was sunk by an overwhelming British armada in a fierce battle that lasted ninety minutes. Admiral Gunther Lutjens, Captain Ernst Lindemann and 2,206 men of her crew were lost, only 115 survived.
Five days earlier, an RAF reconnaissance plane flying low off the coast of Norway spotted four large warships in the sea below. At 19,000 tons fully loaded, the sight of the heavy cruiser Prinz Eugen was shocking enough; even more so was the sight of the 50,000 ton battleship Bismarck - the pride of the German navy - a ship shrouded in myth, an awesome and mysterious behemoth of destruction. Their purpose in these waters was obvious and chilling: the German navy was sending this powerful four-battleship task force to seize control of the North Atlantic sea lanes.
The survival of free Britain was at stake. With almost all of Europe under Hitler's thumb, and the United States still frustratingly neutral, Britain was left alone to fight Nazi Germany. The only hope lay in the convoy route across the North Atlantic from the United States. The fate of Britain and the United States hung in the balance, and all knew that the destruction of the Bismarck would be a dramatic turning point in the war.
Noted historians Bercuson and Herwig have uncovered much new information on the Bismarck, including a close examination of classified British and United States diplomatic files, only recently opened, revealing secret diplomatic manoeuvrings between Churchill and Roosevelt. They tell the full story of the Bismarck for the first time, from the key strategic decisions of the national leaders, to the gripping hour-by-hour account of the battle. This is the definitive account of one of the most dramatic and momentous events of the Second World War.
Published:

1 January 2011

ISBN:

9781446425671

Imprint:

Vintage Digital

Format:

EBook

Pages:

400
They have used every imaginable German, British and American source; they have read every book published on the subject; they have consulted ships' logs and war diaries, admiralty records, signal files and interrogation reports...the definitive popular reconstruction of the affair

Jan Morris, New Statesman
Bercuson and Herwig bring to their telling a special attention to detail and an understanding of global events that reached far beyond six days in the North Atlantic

Globe and Mail
Compelling reading

Publishers Weekly