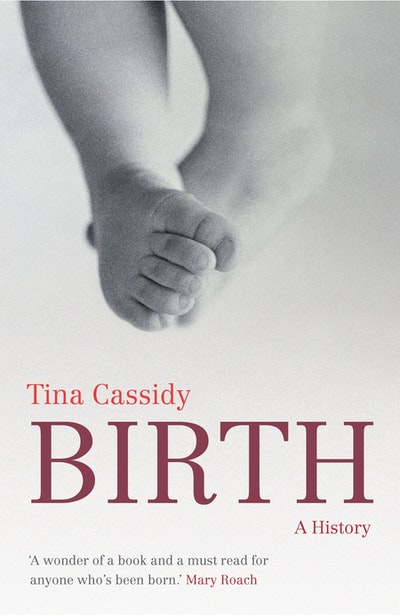 Published:

28 February 2011

ISBN:

9781446450161

Imprint:

Vintage Digital

Format:

EBook

Pages:

320
Birth
A History
---
---
---
This page-turning -- and jaw-dropping -- history of childbirth is 'a wonder of a book... a must read for anyone who's ever been born' (Mary Roach)
What is the best way to give birth? Some would argue 'naturally'. But, as this wonderfully readable and page-turning history of the subject makes clear, ever since man - or woman - stood up, some kind of human intervention has been necessary to aid the process. It is just a question of what kind ...
Tina Cassidy is an experienced journalist who became fascinated by the subject of birth after having her son George in an emergency Caesarean section. Were the doctors right? Did she had to go through what she did? Using her honed research skills, she set out on a quest through the libraries and hospitals of the world to find some answers.
The result is a book that will open the eyes of even the most informed experts on the subject. From the frighteningly narrow pelvis of fossilized Lucy, our earliest ancestor, to the growing size of babies born to well-fed modern mothers, from the part played by midwives through the ages to the various ideas about the father's role, Cassidy looks at every aspect of childbirth with admirable objectivity. BIRTH provides no easy answers but is utterly gripping, occasionally shocking and essential reading for the human race.
Published:

28 February 2011

ISBN:

9781446450161

Imprint:

Vintage Digital

Format:

EBook

Pages:

320
Wonderful... Packed full of information, a brilliant mixture of ancient wisdom and modern science

Kate Mosse
Cassidy is determined to wipe the Vaseline from the lens... There is a collective, wilful amnesia about birth that has been begging for her clear-headed dissipation

New York Times Book Review
A lively, engaging and often witty read; a quirky, eye-opening account of one of life's most elemental experiences

Boston Globe
Fantastic... a darkly witty guide through the birthing hut

New York Magazine
Finally, a literate and well-informed history of childbirth... A liberating look at how assumptions have changed of what a good childbirth is supposed to be

Naomi Wolf