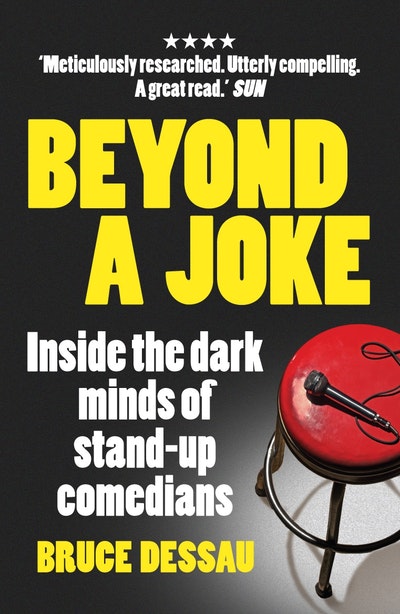 Published:

15 September 2011

ISBN:

9781409051794

Imprint:

Preface Digital

Format:

EBook

Pages:

304
Beyond a Joke
Inside the Dark World of Stand-up Comedy
---
---
---
Comedians are not normal. If they were normal they wouldn't want to go onstage and make thousands of strangers laugh every night. Beyond a Joke is the story of lives lived to excess: of alcohol, drugs, sex ... and running marathons.
Beyond a Joke is a celebration of comedy – one of the modern world's most dominant and compelling art forms – but it is also the story of comedy's dark side, homing in on the scandals that have surrounded some of light entertainment's biggest stars, and telling it as it is, featuring quotes from those that were there at the time. How the devoted laughter of those fans onstage never seemed to be enough for these moody, prickly, ego-driven entertainers. How they would constantly seek more thrills when the curtain came down. The offstage antics of certain comedians would make even rock stars blush. The number of comedians who have had to deal with paternity suits would make a book in itself.
While Beyond a Joke explores the extremes of this world it also addresses another question. Are comedians naturally dysfunctional, or does the stress and pressure of the job make them dysfunctional? Ruby Wax once told me that she had builders in her house who were just as emotionally unstable as most stand-up comedians she had worked with. But they don't want to go on stage and plead with an audience to love them. There is something about wanting to make strangers laugh for a living that is intrinsically, fundamentally, strange. Stand-up is doubly peculiar in that respect. It's just the one person emotionally naked on the stage in front of maybe thousands of people. No safety net, no back up. It takes a particularly odd person to want to pursue comedy as a career. And, as Beyond a Joke will reveal, the behaviour of comedians once they are successful in their chosen career makes them even odder.
Bruce Dessau is the only person who could write this book. From Russell Brand slashing his chest onstage to Jo Brand trashing a friend's car on the motorway, he has heard it all. Bruce Dessau knows where the bodies are buried.
Published:

15 September 2011

ISBN:

9781409051794

Imprint:

Preface Digital

Format:

EBook

Pages:

304
Dessau shows us that comedians tend to be weird, or compulsive, or obsessive; they veer easily towards depression; and they mostly find themselves, at least for a period, desperately out of fashion. Beyond this, he doesn't overanalyse. He simply lines them up, one after the other, and recounts their strange lives

Evening Standard
Meticulously researched and utterly compelling, it's a great read

The Sun, 4 stars
Dessau is an established comedy critic, with plenty to say about the sometimes sordid, often complicated lives of comedians...Dessau's look at stand-up is entertaining

Metro
By filleting the best yarns from dozens of biographies - whether those stories be entertaining, deplorable or a combination of the two - Dessau has created a concentrated essence of comedy's most memorable anti-heroes. They may all have been emotional, and often moral, screw-ups, but they all gave us a laugh

Chortle
An intriguing history of humour's bad boys claims that almost every great comedian is a damaged soul ... Delightful nuggets for the new wave of comedy enthusiasts

Sunday Times