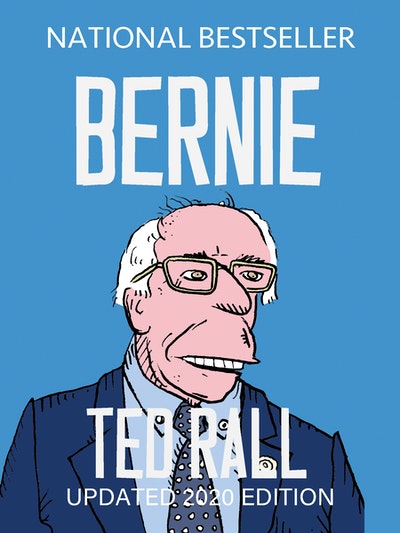 Published:

14 July 2020

ISBN:

9781644210321

Imprint:

Seven Stories Press

Format:

Paperback

Pages:

232

RRP:

$32.99
Bernie
---
---
---
The only graphic novel-style biography of the Presidential Contender.
National Bestseller updated for 2020 with 24 new pages taking Bernie into the 2020 election.
Ted Rall's Bernie explores the personal and political development of a man who burst onto the national stage in 2015—rallying Americans and shaking up the Democratic Party—after decades in Congress. He's leading the polls, but win or lose the Democratic nomination for 2020, he's setting a new benchmark for a revived progressivism within a party that has rejected it for half a century. Insightful, funny, and accessible, this biography-in-graphic-novel-form of the presidential candidate explains both his early life and political rise, but also shows the broader history (and decline) of progressive democratic values in the U.S. until Bernie brought them back to the forefront of the political conversation.
Published:

14 July 2020

ISBN:

9781644210321

Imprint:

Seven Stories Press

Format:

Paperback

Pages:

232

RRP:

$32.99
"Rall's illustrated work, in the same format as his acclaimed Snowden, is an illuminating, clear-headed, straight-shooting argument on why American voters should support and elect Senator Bernie Sanders to president. ... In the months leading up to the Democratic Convention, this is an essential survey and solid political ammunition for Sanders supporters, with appeal to politically minded readers." —Publishers Weekly "More than a campaign biography, this graphic narrative traces the decline and possible resurgence of liberalism within the Democratic Party.... An effective, if unapologetically partisan, primer on a strong voice from the left to counter the Democrats' rightward shift." —Kirkus Reviews "What sets this book apart is not that it's a cartoon, but that it's an argument for placing Bernie Sanders in a particular position in U.S. history, namely as the restoration of liberalism to a Democratic Party that hasn't seen it since the McGovern campaign. In fact, a huge chunk of the book is not about Bernie at all, but is a history of the rightward drifting of the Democratic Party over the decades. Another big chunk is a history of Bernie's childhood and career. Both of these sections are well done." —David Swanson, executive director, World Beyond War "Whatever one's political persuasion, 'Bernie' is quick and thoroughly entertaining, delivering both an incisive read of post-Vietnam War political history and Mr. Rall's distinct, abstract comic art." —East Hampton Star "Delightful ... Bernie's story is fascinating." —Tablet Magazine