How Anna Leask researched and wrote Behind Bars
Prisons, and the people inside them, have always fascinated Anna Leask. So, when we approached her to pen a true crime book about life in New Zealand prisons, she was pretty quick to sign on.
I've been a crime and justice reporter for more than a decade, so I thought I would have plenty of contacts who would be keen to come on board, to speak about their experiences behind the perimeter fence and to hopefully put me in contact with former inmates. I thought it would be easy to get a line-up of storytellers that would help me build up a detailed picture of what it was like in prison, people who would be willing to share the ups and downs, the nitty-gritty of inmate life.
      But from the outset it was harder than I thought.
     It seemed that many of the people who have spent time behind bars in New Zealand were not entirely keen to relive their time as inmates. Some were embarrassed – they just wanted to move on and didn't want any more attention drawn to their misdemeanours. Others had bigger plans for their stories – they thought they deserved their own book. One even mentioned movie rights before turning me down. And many were still heavily interred in the criminal world, still connected to the activities and people that saw them locked up. For that reason, they were not open to talking about their experiences and most didn't even respond.
     I had to broaden my search; I had to reach out further. After a couple of months of endless phone calls, emails, Facebook messages and letter drops, I managed to pull together a line-up of people who had lived in a world I could never imagine surviving.
     Over the course of a year, outside of my full-time job as a senior reporter for the New Zealand Herald, I conducted countless interviews, spent long nights and weekend days on the phone to former fraudsters, thieves, gangsters and the like, pushing them deep into their pasts with my probing and, at times, undoubtedly annoying questions.
     There were plenty of coffee dates, too, in the corner of cafés – the subject talking in hushed tones and me manically scrawling page after page of notes. By the end of it all I racked up about 400 hours of interviews and filled more than 10 notepads with shorthand, diagrams, lists and scribbled names, dates and places.
     Alongside the inmates, I also spoke to former guards, partners and family of prisoners, other people connected to our jails. Every anecdote was fascinating, some were gory and others were unbelievable. These were the real stories of life behind bars in New Zealand.
     And then there was the rest of the research. The hours spent poring over 50 years of news stories, blogs, books and digging into the Department of Corrections guides and reports to bolster what the subjects of the book were telling me; the legal checks with the courts to ensure nothing I was reporting was suppressed, that there wouldn't be a sub judice issue for reporting on historic court cases and prison incidents. At times it seemed like the 'to do' list for this book would never end.
     We have 18 prisons across the country, with a total population that reached 10,000 by the end of 2016. The people I spoke to have all done their time – be it in a cell or monitoring others – in more than one facility. They were able to tell me what every part of life was like in prison, from waking to sleeping, eating to drinking, fighting, rioting, making friends and losing them, hierarchy and gang warfare, fear and protection – you name it, this lot had lived it.
     There was the man who'd done time in the 1970s, 1980s, 1990s and was most recently released in 2008; another who served 10 years for a murder he, to this day, claims he did not commit; a father who spent 12 Christmas days locked up and away from his family; a woman who did lag after lag, leaving her kids at home to be raised by others; and the woman who, sadly, was sent back to prison before I could finish the manuscript.
     The final selection of subjects represents many different backgrounds – gangs and abuse, middle class with good education, successful business owner, domestic violence victim – which was done deliberately to ensure I had a broad range of experiences both in life and prison to add to the narrative of the book. They told me things they had never told anyone else, shared their deepest secrets and fears – and a hell of a lot of jokes along the way. Prison is grim, no one will argue that, but it has its light moments, I learned.
     It was an immense year writing Behind Bars but one I thoroughly enjoyed. Earning the trust of the people who know the prison system the most so that I could dig into their experience and really show what it is like to be an inmate was a huge (and, in the beginning, daunting) task. But by the end, the strength of the relationships I had with them allowed me to cover some extremely compelling subjects and situations with them.
     It was also immense given I already had a full-time job. Interviewing, transcribing and then actually writing 80,000 words is quite a task and there were some long days and even longer weekends spent at the dining room table banging out chapter after chapter.
     The task was made easier by the support I had from family, friends and the people of Behind Bars. They were available when I needed them, never questioned me and trusted that I would tell their stories honestly. I will always be grateful to the people who said yes – the former inmates, the prison staff past and present, and the others who gave up their time to get Behind Bars across the line.
---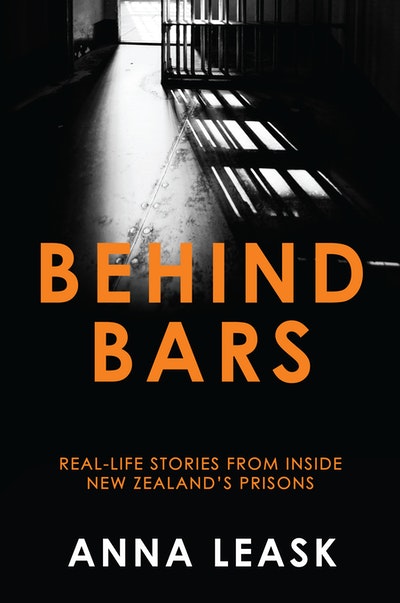 A raw, revealing and powerful account of life inside, as told by prison inmates.
Buy now
Buy now
---