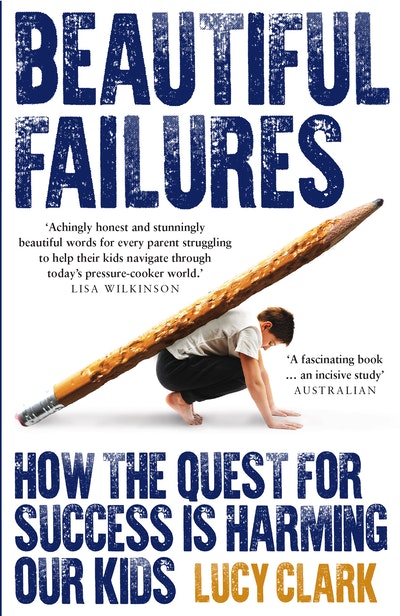 Published:

30 January 2017

ISBN:

9780857989260

Imprint:

Ebury Australia

Format:

Paperback

Pages:

320

RRP:

$22.99
Beautiful Failures
---
---
---
'I want to tell you a story about my daughter, my beautiful failure. Every day of her high school life was a struggle. She woke up in the morning and the thought of going to school was like an enormous mountain to climb.'
'Nothing will ever be as easy as your school years,' well-meaning adults told her, but I knew for my daughter, and for many kids who have struggled as square pegs trying to make themselves round, this was dead wrong.
When Lucy Clark's daughter graduated from school a 'failure', she started asking questions about the way we measure success. Why is there so much pressure on kids today? Where does it come from? Most importantly, as we seem to be in the grip of an epidemic of anxiety, how can we reduce that pressure?
Beautiful Failures explores, through personal experience and journalistic investigation, a broken education system that fails too many kids and puts terrible pressure on all kids, including those who 'succeed'. It challenges accepted wisdoms about schooling, calls on parents to examine their own expectations, and questions the purpose of education, and indeed the purpose of childhood.
Published:

30 January 2017

ISBN:

9780857989260

Imprint:

Ebury Australia

Format:

Paperback

Pages:

320

RRP:

$22.99
Praise for Beautiful Failures
Achingly honest and stunningly beautiful words for every parent struggling to help their kids navigate through today's pressure-cooker world.

Lisa Wilkinson
Schools will never transform until our conversations around education do. As a mother, Lucy Clark found that out the hard way. Beautiful Failures is an unflinching and ultimately inspiring investigation of international best-practice, and what Australian schools can - and must - learn to do better. Clark's conclusions, tough-minded and sometimes surprising, are bound to start many conversations.

Dr Susan Maushart, author and broadcaster
This is a fascinating book that, despite its extensive research, is not a difficult read ... As with the best of teachers, Clark's success lies in her ability to first set down the foundation of her argument and then steadily build on it so, by the end of the book, the uninformed become well-informed and the well-informed even better informed ... an incisive study

Australian
Clark is brave, venturing into touchy territory where the personal and political meet, the sore spot in our society ... her journey from the personal into the theory and politics of education is instructive

Sydney Morning Herald
Article
Article
Examining education
Beautiful Failures author Lucy Clark dispels some well-worn education myths.