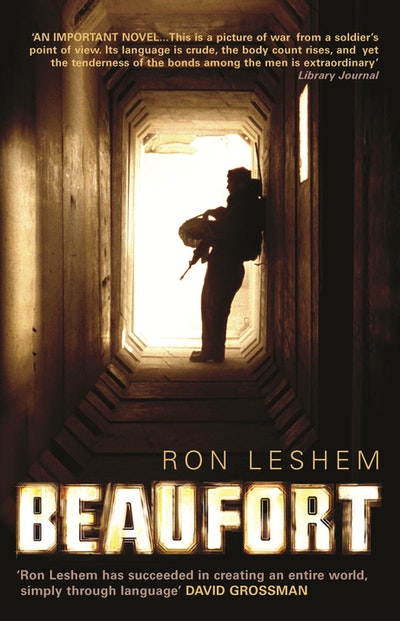 Published:

15 June 2016

ISBN:

9781784703592

Imprint:

Vintage

Format:

Paperback

Pages:

320

RRP:

$24.99
Beaufort
---
---
---
A powerful internationally acclaimed novel of war and survival, now a major film.
Beaufort, a remote and beautiful fort in southern Lebanon dating back to the Crusades, has been an outpost of the Israeli Defence Force for nearly twenty years, and now, for the teenage soldiers who live there presiding over the last moments of Israel's presence in Lebanon, it has become a world of its own, an enclave in the heart of enemy territory where boy soldiers create a state with its own rules and its own unique, outrageous, brutal language.
With a critical eye and an empathetic heart, Ron Leshem dishes up a wholly human story that takes place in conditions that are anything but. Fast-paced and brutally honest, unflinching and uproariously funny, Beaufort has been hailed - not only by critics but by the generation of soldiers who served in Lebanon during Israeli occupation - as the true voice of that sobering period.
Written as the diary of Liraz (Erez) Liberti, the head of a commando team stationed at Beaufort during the last winter of Israeli occupation, Beaufortis a revolutionary and potent look at the futility of war and death, and the courage it takes to put an end to it.This is not a story of war, but of retreat.This is a story with no enemy, only an amorphous entity that fires missiles from the surrounding mountains. And while thirteen young men propel the novel and give it life and colour, the real hero of Beaufortis fear: contagious, intoxicating, palpable fear, a word they forbid themselves from uttering. Beaufort is a devastating portrayal of a generation finding that the values and principles bestowed on them by their parents have betrayed them, and the terrifying nihilistic reality of Middle Eastern conflict.
Published:

15 June 2016

ISBN:

9781784703592

Imprint:

Vintage

Format:

Paperback

Pages:

320

RRP:

$24.99
Ron Leshem has succeeded in creating an entire world, simply through language

author David Grossman
Beaufort is that rare thing, a novel of deep moral concern in which sympathetically drawn and beautifully realized characters are allowed to speak for themselves.

LA Times
This gripping first novel describes... a country increasingly weary of endless war and strained by differences between hawks and doves... By turns, it is tragic, funny, mordant, irate, shocking, and poignant.. A must read

Booklist, Starred Review
An important novel...This is a picture of war from a soldier's point of view. Its language is crude, the body count rises, and yet the tenderness of the bonds among the men is extraordinary

library Journal, Starred Review
scenarios unfold, funny, chilling and unrelenting ... Leshem never slackens his pace.

San Francisco Chronicle
An overnight literary sensation ... it brilliantly evokes the nature of war ... Beaufort is a comic, absurd and piercingly truthful story. This is an incredible debut novel

Manchester Evening News