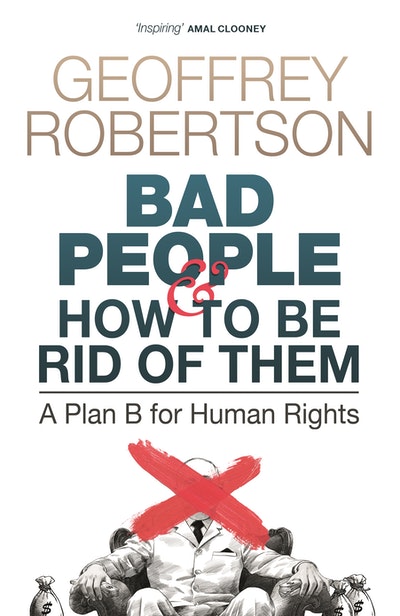 Published:

4 May 2021

ISBN:

9781761042423

Imprint:

Vintage Australia

Format:

Trade Paperback

Pages:

272

RRP:

$34.99
Bad People – and How to Be Rid of Them
A Plan B for Human Rights
---
---
---
Geoffrey Robertson's Plan B for punishing human rights abusers: 'Magnitsky Laws', which could impose debilitating sanctions on 'bad people'.
Twenty years ago Geoffrey Robertson inspired the global justice movement with his ground-breaking book, Crimes Against Humanity. Since then, the movement has stalled, as nationalism takes hold and populist governments retreat from international courts and refuse to comply with their rulings.
But there is an alternative. The Plan B for human rights looks back to national laws to name, blame and shame abusers. It strips them of their right to enter democratic nations, and of ill-gotten funds they seek to deposit in global banks; and it bars them and their families from schools and hospitals in these countries.
This book explains the background and potential of these laws, which have been called Magnitsky Laws, after Sergei Magnitsky, a lawyer who died in a Russian jail after exposing state corruption. Early versions of them have been introduced in the US, Canada and Britain, and they are now being considered in Australia.
Geoffrey Robertson argues in this book that the Magnitsky movement offers a potent solution to crimes being committed against humanity, whether in America, Russia, China or Belarus. These abuses are a concern for all human beings, and good people are no longer prepared to tolerate them, in their own country or elsewhere in the world. The Magnitsky laws can show the way forward for the global justice movement in the twenty-first century.
Published:

4 May 2021

ISBN:

9781761042423

Imprint:

Vintage Australia

Format:

Trade Paperback

Pages:

272

RRP:

$34.99
Praise for Bad People – and How to Be Rid of Them
This inspiring book, authored by a lawyer on the frontlines of the fight for human rights, sets out a new way for liberal democracies to deter and punish the perpetrators of cruelty and corruption. The book shows how using targeted sanctions can be a "Plan B" for global justice in a post-Trump, post-pandemic world.

Amal Clooney
Geoffrey Robertson has spent a career as one of the world's top human rights lawyers looking for justice for victims of dictators and kleptocrats. His new book Bad People is the first authoritative guide for how liberal democracies can end impunity of the most corrupt and evil people in the world. Given the atrocities that are going on in so many places, this book couldn't have come a moment too soon.

Bill Browder, political activist and author of RED NOTICE
This inspiring book is a call to arms – a demand that governments use their new powers to target sanctions on the perpetrators of human rights abuses. Geoffrey Robertson powerfully argues that a post-pandemic world should refuse to tolerate cruel and corrupt foreigners who currently have access to their banks and universities and their hospitals and casinos. It should become a mission for the human rights movement.

Helena Kennedy QC
Geoffrey Robertson has been at the forefront of efforts to introduce a Magnitsky law to Australia—a law that would permit the targeted sanctions of asset freezes and travel bans on officials who abuse human rights. This timely book shows how Australia can join other countries with similar laws to send a strong message to officials everywhere that their abuses will have far-reaching consequences.

Kenneth Roth, executive director of Human Rights Watch
The interests of nations are being replaced by the interests of a small groups of powerful individuals. The lines between diplomacy, politics, business, and crime are being erased. Dictatorships like Putin's Russia exploit these gaps and the free world's inability to adapt. Targeted sanctions step into this breach to hold the thugs and their bosses accountable for their actions. Thanks to Magnitsky sanctions, those who abuse human rights, including of their own citizens, can no longer enjoy the good life in the free world while turning their home countries into gulags. Bad People deftly illuminates a bright line from Nuremburg to Magnitsky, and what good people can and must do to fight evil in all its modern forms.

Garry Kasparov, chairman of the Human Rights Foundation
Robertson leaves us with a sensible pathway to a better world through laws that hold individuals accountable for their evil deeds.

George Newhouse, The Conversation