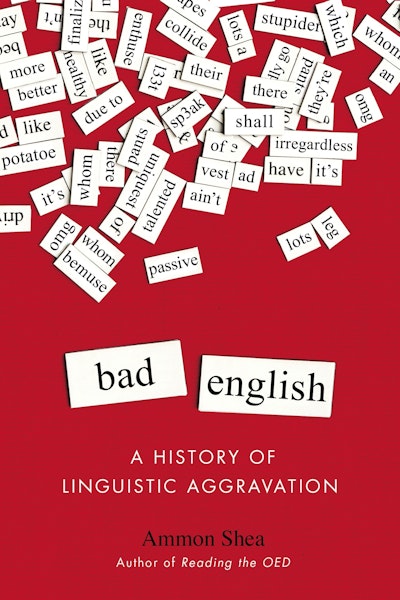 Published:

15 January 2017

ISBN:

9780399165580

Imprint:

Tarcher

Format:

Trade Paperback

Pages:

272

RRP:

$26.99
Bad English
---
---
The author of Reading the OED presents an eye-opening look at language "mistakes" and how they came to be accepted as correct—or not.
English is a glorious mess of a language, cobbled together from a wide variety of sources and syntaxes, and changing over time with popular usage. Many of the words and usages we embrace as standard and correct today were at first considered slang, impolite, or just plain wrong.
Whether you consider yourself a stickler, a nitpicker, or a rule-breaker in the know, Bad English is sure to enlighten, enrage, and perhaps even inspire. Filled with historic and contemporary examples, the book chronicles the long and entertaining history of language mistakes, and features some of our most common words and phrases, including:
Decimate
Hopefully
Enormity
That/which
Enervate/energize
Bemuse/amuse
Literally/figuratively
Ain't Irregardless
Socialist
OMG
Stupider
Lively, surprising, funny, and delightfully readable, this is a book that will settle arguments among word lovers—and it's sure to start a few, too.
Published:

15 January 2017

ISBN:

9780399165580

Imprint:

Tarcher

Format:

Trade Paperback

Pages:

272

RRP:

$26.99
"Language is funny, and so is Ammon Shea. His excellent new book tours our irrational prejudices about language, showing that an appreciation for the quirks and ironies of language history can put our understanding on a firmer basis and restore our sense of humor." —David Skinner, author of The Story of Ain't "On the playground of language, there is no more mischievous laddie than Ammon Shea. I plan to use his new book to split the lip of the next insufferable language prig who saunters into my office to accuse me of bad English."   —Roy Peter Clark, author of The Glamour of Grammar and How to Write Short "In Bad English, Ammon Shea wastes no time challenging widely held beliefs about just what English is bad. His subtitle, "A History of Linguistic Aggravation," gets in an opening jab at sticklers like me, who know that "irritate" means annoy while "aggravate" means "make worse." Shea, having read the OED to write Reading the OED, is well qualified to tell us we probably don't know as much as we think we do." —Washington Post Praise for Reading the OED: "Oddly inspiring...Shea has walked the wildwood of our gnarled, ancient speech and returned singing incomprehensible sounds in a language that turns out to be our own." —Nicholson Baker, New York Times Book Review "Delicious...a lively lexicon." —O, The Oprah Magazine "Readworthy." —William Safire, The New York Times Magazine "Shea, an avid collector of words, displays an assortment for our pleasure as he wends his way through the alphabet." —The Boston Globe