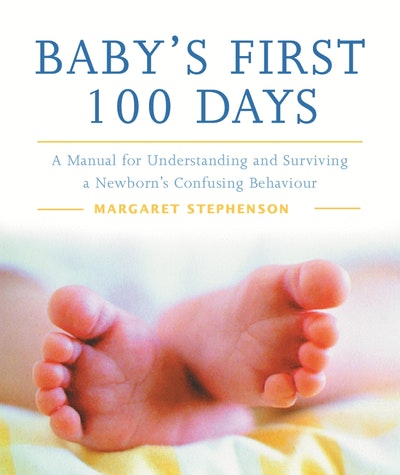 Published:

2 March 2001

ISBN:

9781864710526

Imprint:

Doubleday Australia

Format:

Paperback

Pages:

96

RRP:

$19.99
Baby's First 100 Days
A Manual for Understanding and Surviving a Newborn's Confusing Behaviour
---
---
---
A commonsense parenting guide to your baby's first 100 days.
A commonsense parenting guide to your baby's first 100 days.
Who has time to read a big reference book when a new baby has arrived? There are lots of baby books out there - but nothing as fresh, simple and accessible as this guide to surviving the first 100 days. Baby's First 100 Days simply and clearly demystifies baby's behaviour -- including crying, tired signs, sleeping, feeding, settling -- and provides short tips and suggestions to new parents' frequently asked questions. Compact, authoritative, reassuring and complete with photographs to clarify the advice, it's easy to refer to when you are in the middle of a crisis!
Baby's First 100 Days is a commonsense parenting guide to:* Crying -- types of crying and what each one means, how to cope when baby cries;* Tired signs -- clues such as frowning, clenched fists and grizzling;* Sleeping -- a learned skill, baby's sleep pattern and development;* Feeding -- how often? how much? how to avoid fussing; * Settling -- surefire methods to get baby to sleep;* The 'newborn parent' -- how to look after yourself during these early months and how to get the most enjoyment out of the whole experience!
Simple, fresh, accessible and full of gorgeous photographs throughout, Baby's First 100 Days is the perfect gift for new parents and a godsend for a babysitter or grandparent.
Published:

2 March 2001

ISBN:

9781864710526

Imprint:

Doubleday Australia

Format:

Paperback

Pages:

96

RRP:

$19.99