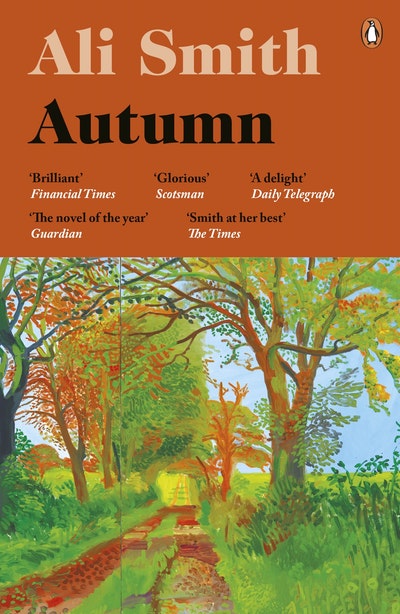 Published:

7 September 2017

ISBN:

9780241973318

Imprint:

Penguin General UK

Format:

Paperback

Pages:

272

RRP:

$22.99
Autumn
SHORTLISTED for the Man Booker Prize 2017
---
---
---
'The novel of the year is obviously Ali Smith's Autumn... Expansive, shape-shifting, at once more stringent and more consoling than anything I've read this year' Olivia Laing, Observer
Autumn 2016: Daniel is a century old. Elisabeth, born in 1984, has her eye on the future. And the UK is in pieces, divided by a historic once-in-a-generation summer. Love is won, love is lost. Hope is hand in hand with hopelessness. The seasons roll round, as ever.
Ali Smith's new novel is a meditation on a world filling up with borders, on what richness and worth are, on what harvest means. From Shakespearian jeu d'esprit, via Keatsian melancholy and the sheer bright energy of 1960s Pop Art, this first in a quartet of novels casts an eye over our own time, asking who we are, where we are, right now.
Here is time, ever-changing, ever cyclical. Here comes Autumn.
Published:

7 September 2017

ISBN:

9780241973318

Imprint:

Penguin General UK

Format:

Paperback

Pages:

272

RRP:

$22.99
I love Ali Smith's writing, and I've been keeping Autumn for an end-of-book holiday treat

Val McDermid, 'The Observer'
I love Ali Smith's writing, and I've been keeping Autumn for an end-of-book holiday treat

Val McDermid, 'The Observer'
I love Ali Smith's writing, and I've been keeping Autumn for an end-of-book holiday treat

Val McDermid, 'The Observer'
In a country apparently divided against itself, a writer such as Smith is more valuable than a whole parliament of politicians

Financial Times
In a country apparently divided against itself, a writer such as Smith is more valuable than a whole parliament of politicians

Financial Times
In a country apparently divided against itself, a writer such as Smith is more valuable than a whole parliament of politicians

Financial Times
Bold and brilliant, dealing with the body blow of Brexit to offer us something rare: hope

Jackie Kay
Bold and brilliant, dealing with the body blow of Brexit to offer us something rare: hope

Jackie Kay
Bold and brilliant, dealing with the body blow of Brexit to offer us something rare: hope

Jackie Kay
Humour, grace, solace...A light-footed meditation on mortality, mutability and how to keep your head in troubled times

The Guardian
Humour, grace, solace...A light-footed meditation on mortality, mutability and how to keep your head in troubled times

The Guardian
Humour, grace, solace...A light-footed meditation on mortality, mutability and how to keep your head in troubled times

The Guardian
Transcendental writing about art, death and all the dimensions of love. It's not so much 'reading between the lines' as being blinded by the light between the lines - in a good way

Deborah Levy
Transcendental writing about art, death and all the dimensions of love. It's not so much 'reading between the lines' as being blinded by the light between the lines - in a good way

Deborah Levy
Transcendental writing about art, death and all the dimensions of love. It's not so much 'reading between the lines' as being blinded by the light between the lines - in a good way

Deborah Levy
The novel of the year is obviously Ali Smith's Autumn, which managed the miracle of making at least a kind of sense out of post-Brexit Britain

The Observer
The novel of the year is obviously Ali Smith's Autumn, which managed the miracle of making at least a kind of sense out of post-Brexit Britain

The Observer
The novel of the year is obviously Ali Smith's Autumn, which managed the miracle of making at least a kind of sense out of post-Brexit Britain

The Observer
Autumn is a beautiful, poignant symphony of memories, dreams and transient realities

The Guardian
Autumn is a beautiful, poignant symphony of memories, dreams and transient realities

The Guardian
Autumn is a beautiful, poignant symphony of memories, dreams and transient realities

The Guardian
Experimental, thematically complex, associative, time-juggling, powered by a crazed and energetic curiosity

Sunday Times
Experimental, thematically complex, associative, time-juggling, powered by a crazed and energetic curiosity

Sunday Times
Experimental, thematically complex, associative, time-juggling, powered by a crazed and energetic curiosity

Sunday Times
Pure literary magic

Mail on Sunday
Pure literary magic

Mail on Sunday
Pure literary magic

Mail on Sunday
Puckish, yet elegant; angry, but comforting. Long may she Remain that way

The Times
Puckish, yet elegant; angry, but comforting. Long may she Remain that way

The Times
Puckish, yet elegant; angry, but comforting. Long may she Remain that way

The Times
A wonderfully risky project...an ambitious, multi-layered creation...an energising and uplifting story

The Daily Telegraph
A wonderfully risky project...an ambitious, multi-layered creation...an energising and uplifting story

The Daily Telegraph
A wonderfully risky project...an ambitious, multi-layered creation...an energising and uplifting story

The Daily Telegraph
A moving exploration of the intricacies of the imagination, a sly teasing-out of a host of big ideas and small revelations, all hovering around a timeless quandary: how to observe, how to be

The New York Times
A moving exploration of the intricacies of the imagination, a sly teasing-out of a host of big ideas and small revelations, all hovering around a timeless quandary: how to observe, how to be

The New York Times
A moving exploration of the intricacies of the imagination, a sly teasing-out of a host of big ideas and small revelations, all hovering around a timeless quandary: how to observe, how to be

The New York Times
I wonder: How does she manage to so wonderfully weave in and out of time, to layer time, while creating something that feels like it was written this morning after she read today's newspaper?

PBS News Hour
I wonder: How does she manage to so wonderfully weave in and out of time, to layer time, while creating something that feels like it was written this morning after she read today's newspaper?

PBS News Hour
I wonder: How does she manage to so wonderfully weave in and out of time, to layer time, while creating something that feels like it was written this morning after she read today's newspaper?

PBS News Hour
Publisher's description. Autumn 2016: the UK is in pieces, divided by a historic once-in-a-generation summer. Love is won, love is lost. The seasons roll round as ever. From the imagination of the peerless Ali Smith comes a shape-shifting, light-footed, time-travelling novel. This is a story about right now, this minute; about ageing and time and love and stories themselves. Here comes Autumn.

Penguin
Publisher's description. Autumn 2016: the UK is in pieces, divided by a historic once-in-a-generation summer. Love is won, love is lost. The seasons roll round as ever. From the imagination of the peerless Ali Smith comes a shape-shifting, light-footed, time-travelling novel. This is a story about right now, this minute; about ageing and time and love and stories themselves. Here comes Autumn.

Penguin
Transcendental writing about art, death and all the dimensions of love. It's not so much 'reading between the lines' as being blinded by the light between the lines - in a good way

Deborah Levy
Transcendental writing about art, death and all the dimensions of love. It's not so much 'reading between the lines' as being blinded by the light between the lines - in a good way

Deborah Levy
Fantastic writing, big ideas and generosity of spirit

Spectator
Fantastic writing, big ideas and generosity of spirit

Spectator
[Ali Smith] is Scotland's Nobel laureate-in-waiting - and I can't wait for her new book

Sebastian Barry, Observer
[Ali Smith] is Scotland's Nobel laureate-in-waiting - and I can't wait for her new book

Sebastian Barry, Observer
Humour, grace, solace...A light-footed meditation on mortality, mutability and how to keep your head in troubled times

Guardian, Best Fiction 2016
Humour, grace, solace...A light-footed meditation on mortality, mutability and how to keep your head in troubled times

Guardian, Best Fiction 2016
Autumn is a beautiful, poignant symphony of memories, dreams and transient realities

Guardian
Autumn is a beautiful, poignant symphony of memories, dreams and transient realities

Guardian
[Ali Smith] is simply incapable of writing a dull paragraph

New Statesman
[Ali Smith] is simply incapable of writing a dull paragraph

New Statesman
Bold and brilliant, dealing with the body blow of Brexit to offer us something rare: hope.

Jackie Kay, poet
Bold and brilliant, dealing with the body blow of Brexit to offer us something rare: hope.

Jackie Kay, poet
The book I'd like to receive for Christmas: Ali Smith's Autumn.

Paula Hawkins, author of The Girl on the Train
The book I'd like to receive for Christmas: Ali Smith's Autumn.

Paula Hawkins, author of The Girl on the Train
The novel of the year is obviously Ali Smith's Autumn, which managed the miracle of making at least a kind of sense out of post-Brexit Britain.

Olivia Laing, Observer
The novel of the year is obviously Ali Smith's Autumn, which managed the miracle of making at least a kind of sense out of post-Brexit Britain.

Olivia Laing, Observer
Ever-inventive...Autumn is the first serious Brexit novel...In a country apparently divided against itself, a writer such as Smith is more valuable than a whole parliament of politicians.

Financial Times, Books of the Year
Ever-inventive...Autumn is the first serious Brexit novel...In a country apparently divided against itself, a writer such as Smith is more valuable than a whole parliament of politicians.

Financial Times, Books of the Year