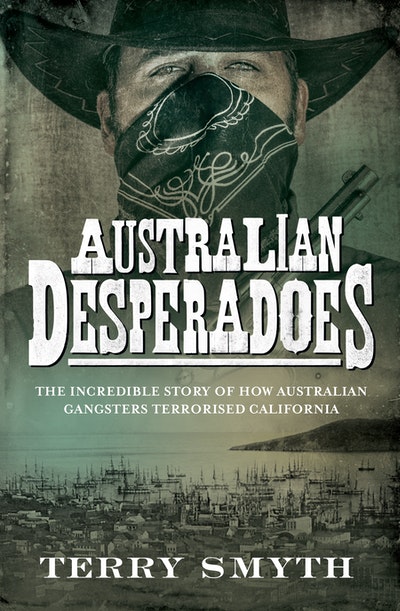 Published:

3 July 2017

ISBN:

9780143782377

Imprint:

Ebury Australia

Format:

Trade Paperback

Pages:

352

RRP:

$35.00
Australian Desperadoes
The Incredible Story of How Australian Gangsters Terrorised California
---
---
---
They were the Australians who made American history. In the roaring days of the 1850s California gold rush, San Francisco was the most dangerous town in America, made so by a notorious criminal gang known as the Sydney Coves.
The Coves – San Francisco's first organised-crime gang – were Australians: men and women with criminal careers in Australia who had come to the US, mostly illegally, during the gold rush. The Coves had come not to dig for gold but to unleash a crime wave the likes of which America had never seen. Robbery, murder, arson and extortion were the Coves' stock-in-trade, and it was said that the leader of the gang, Jim Stuart, had killed more men than any man in California.
The gang's base, in the waterfront district, came to be known as Sydney Town. The area was a no-go zone for police – many of whom were in Stuart's pocket anyway – so, just as Capone would one day rule Chicago, the Coves ruled San Francisco. And more than once, just to make sure there was no doubt that Frisco was their town, they burnt it down.
The Coves were hated and feared by the respectable citizens of San Francisco – who derisively called them 'Sydney Ducks' but never to their faces – and, realising that the forces of the law could not, or would not, take them on, decided lynch law was the only solution, and formed a vigilante group.
The streets of San Francisco became a battlefield as the Coves and the vigilantes fought for control of the city, with gunfights and lynchings almost daily spectacles as the police stood idly by. Jim Stewart was arrested in Sacramento for killing a sheriff, but escaped to be involved in one the most celebrated cases of mistaken identity in the annals of American crime. When the smoke cleared, the Coves' reign of terror was over. Some were strung up from storefronts in the street, some fell in a deadly gunfight with Jonathan R. Davis, one of the fastest guns in the west, others escaped capture and returned to Australia.
The story of the Sydney Coves is little-known, fascinating and well worth telling.
Published:

3 July 2017

ISBN:

9780143782377

Imprint:

Ebury Australia

Format:

Trade Paperback

Pages:

352

RRP:

$35.00