Fiona McArthur introduces some exceptional Aussie midwives.
Midwifery is a long and storied profession. Dating as far back as ancient Egypt there are texts demonstrating how to predict the due date of a child, and depictions of women assisted in childbirth. And even though today many of us have access to cutting-edge technology – mobile apps, ultrasounds, world-class hospitals – the role of the midwife remains relatively unchanged: offering care, support and advice through pregnancy and childbirth the world over.
'In Australia, midwives care for women and families from the cities to the red centre and in every direction to the sea – so, in this, all our midwifery journeys are different,' writes Fiona McArthur, a career midwife with over 30 years' experience, in her book Aussie Midwives. The book profiles passionate midwives, showcasing the incredible care they offer and the diverse and often challenging environments in which they work. 'Australian midwives have incredible stories to share and they deal with different challenges, joys and heartbreaks,' she says in the book's introduction, 'just like the mothers and families they serve.'
Here are a few snapshots of the remarkable professionals profiled in Aussie Midwives...
The Pragmatist: Lisa Ferguson – country town midwife
Lisa Ferguson practises in Temora NSW, a town of around 4500 people. She is a big believer in the benefits of leaving fear at the door during childbirth, and allowing the human body to guide mothers through the process. Ferguson uses techniques like hypnobirthing, positive visualisation and meditation to encourage comfortable labour. 'You trust your body to function for you every day; you don't tell your heart to beat or your kidneys to work, your body just does it,' she says in Aussie Midwives. 'It can be the same for labour and birthing. Stay relaxed and in a positive mindset, listening to your body and doing what it tells you to do, and your birth can be a very empowering moment in your life.'
The Accidental Midwife: Priscilla Turner – flight nurse
Many remote Australian communities don't have midwives, so Aussie Midwives pays special tribute to the work of Royal Flying Doctor Service flight nurses – often first on-hand during challenging childbirth situations. Far North Queensland flight nurse Priscilla Turner never aspired to be a midwife, but caring for women in all stages of pregnancy, often in high-risk scenarios, is a regular requirement of her job. In moments of extreme stress, in a confined aircraft environment, Turner's learned to put faith in the power of the mother's mind. 'I use this knowledge from my early mid­wifery mentors to talk through what [the mothers'] fears are, suggest what resources they have, and help them gain control again,' she says in Aussie Midwives. 'The mind can do amazing things with the body.'
The Facilitator: Shea Caplice – homebirth midwife
Like all of the extraordinary professionals profiled in Aussie Midwives, for homebirth midwife Shea Caplice there's no such thing as a typical week. Whenever the call comes in she needs to be able to drop everything and go, ready to confidently deal with whatever situations she encounters. Her practice is built on experience and belief in the process – working with women to facilitate their journey through childbirth to parenthood. Before this can happen, building a relationship and finding connection with the mother-to-be is paramount. 'I told someone the other day that I sell trust,' she says in Aussie Midwives. 'By increasing trust we can reduce fear, and this has been the central tenet of my work as a midwife for many, many years.'
---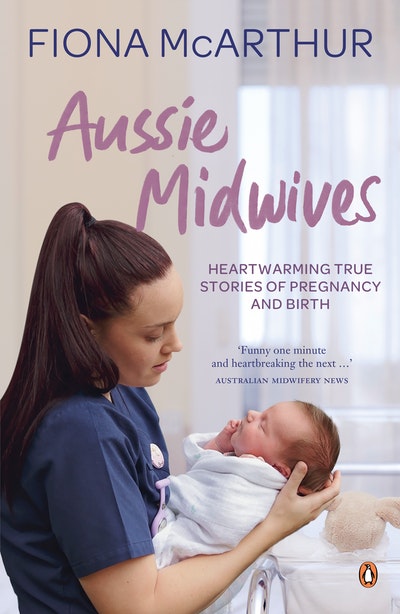 Funny one minute and heartbreaking the next, Aussie Midwives explores the joys, emotion and drama of childbirth and the lasting effect it has on the people who work in this extraordinary profession.
Buy now
Buy now
---