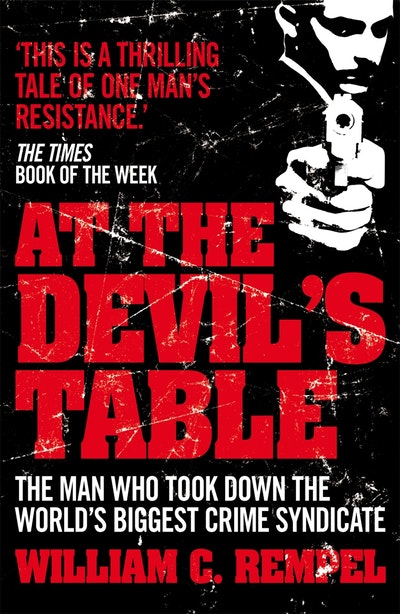 Published:

1 September 2011

ISBN:

9781446492369

Imprint:

Cornerstone Digital

Format:

EBook

Pages:

368
At The Devil's Table
Inside the fall of the Cali cartel. The world's biggest crime syndicate
---
---
---
The untold story of the man who risked everything to take down the world's largest drug cartel.
Throughout the eighties and early nineties, the great percentage of the world's cocaine production was handled by two Colombian crime syndicates: the Medelin cartel, run by the ruthless gangster Pablo Escobar, and the Cali cartel, a more sophisticated operation run by the businesslike Orejuela brothers.
The two cartels openly waged a bloody gang war until in December 93, Escobar was taken out and the path became clear for Cali to take over the world.
Jorge Salcedo, as the Cali cartel's head of security, found himself right at the heart of this new expansion. A former army major, he was tasked with keeping the bosses, and their families, away from harm. But he was also staunchly moral and had always promised himself that he would never kill. It was a line he would never cross.
So on the night when a gun was pressed into his hand and an execution order given, he knew his time had come. It was kill or be killed, or, the third and most outlandish way, take the whole operation down.
This is the remarkable story of how one man managed to singlehandedly tear down the world's largest and most violent drug empire. It is full of incredible moments, of dawn helicopter raids and billionaires hiding in walls, and the second by second tension as he waits for his bosses to be apprehended. It reads like the best kind of thriller – it's pacy, dark, mean and cool – and is one of the best pieces of true crime writing I've had the pleasure to read.
Published:

1 September 2011

ISBN:

9781446492369

Imprint:

Cornerstone Digital

Format:

EBook

Pages:

368
Praise for At The Devil's Table
In this powerful and riveting work of nonfiction, William Rempeldemonstrates the virtues of investigative reporting. Gaining access to the figure that could - and indeed did - spill the secrets that brought down a cartel, Rempel has an extraordinary story to tell. He not only takes the reader inside the hidden world of the drug cartels. He also provides a fascinating character study of man who must answer a simple harrowing question: Should he risk his life in order to save his soul, or should he keep a pact with the devil?

David Grann, author of THE LOST CITY OF Z
Bill Rempel has earned his reputation as one of America's finest investigative reporters the old fashioned way - by getting people to tell him explosive stories they won't talk about with anyone else. At The Devil's Table brings Rempel's skills to the fore as never before,revealing the graphic details of Colombia's bloody drug wars from the ultimate insider. By the end, you realize that the biggest mystery is how Jorge Salcedo stayed alive long enough to tell Rempel about his amazing life.?

James Risen, author of State of War: The Secret History of the CIA and the Bush Administration
Columbia has been devoured by drug lords: this is a thrilling tale of one man's resistance.

The Times, Book of the Week