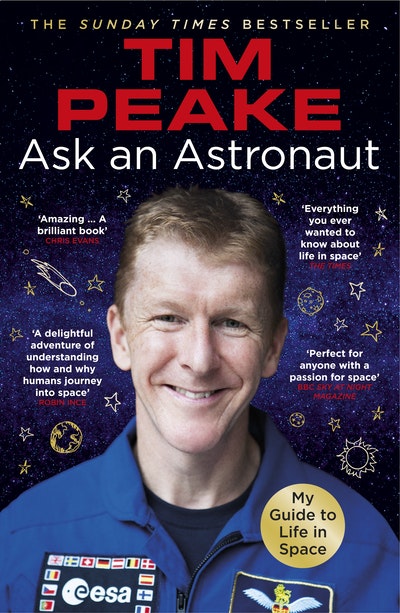 Published:

30 July 2018

ISBN:

9781784759483

Imprint:

Arrow

Format:

Paperback

Pages:

272

RRP:

$22.99
Ask an Astronaut
My Guide to Life in Space (Official Tim Peake Book)
---
---
---
The awe-inspiring Sunday Times Bestseller from astronaut Tim Peake
The awe-inspiring Sunday Times Bestseller from astronaut Tim Peake
Shortlisted for the British Book Award 2018
'Amazing . . . A brilliant book' Chris Evans, BBC Radio 2
Have you ever thought of becoming an astronaut?
Ask an Astronaut is Tim Peake's personal guide to life in space, based on his historic Principia mission, and the thousands of questions he has been asked since his return to Earth.
How does it feel to orbit the earth ten times faster than a speeding bullet?
What's it like to eat, sleep and go to the toilet in space?
And where to next - the moon, mars or beyond?
From training to launch, historic spacewalk to re-entry, Tim has a fascinating answer to everything you ever wanted to know. He reveals for readers of all ages the extraordinary secrets, cutting-edge science, and everyday wonders of life onboard the International Space Station.
'Everything you ever wanted to know about life in space' Times
Published:

30 July 2018

ISBN:

9781784759483

Imprint:

Arrow

Format:

Paperback

Pages:

272

RRP:

$22.99
Praise for Ask an Astronaut
Ask an Astronaut can be browsed or read straight through . . . Even for those who don't dream of leaving Earth . . . insight into the experience of someone who has is rather thrilling.

TLS
Article
Cuppas in space
In Ask an Astronaut, Tim Peake reveals the niceties of space life.