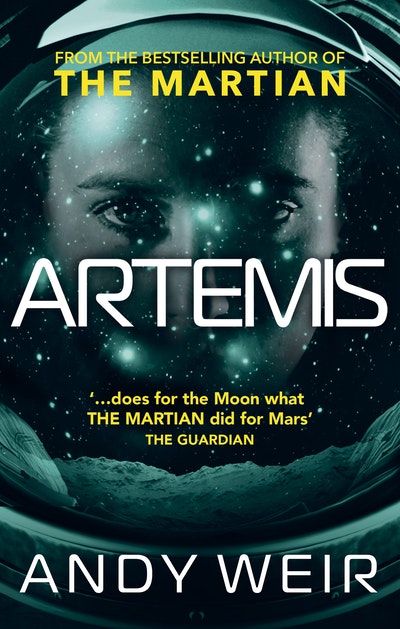 Published:

16 July 2018

ISBN:

9781785030253

Imprint:

Del Rey

Format:

Paperback

Pages:

320

RRP:

$19.99
Artemis
A gripping sci-fi thriller from the author of The Martian
---
---
---
A twisty, high concept thriller from the Sunday Times bestselling author of global phenomenon, The Martian
Ever had a bad day? Try having one on the moon...
'Fascinating' Tim Peake, Sunday Times bestselling author of Ask an Astronaut
______________________
WELCOME TO ARTEMIS. The first city on the moon.
Population 2,000. Mostly tourists.
Some criminals.
Jazz Bashara is one of the criminals. She lives in a poor area of Artemis and subsidises her work as a porter with smuggling contraband onto the moon. But it's not enough.
So when she's offered the chance to make a lot of money she jumps at it. But though planning a crime in 1/6th gravity may be more fun, it's a lot more dangerous...
______________________
Now available to preorder: PROJECT HAIL MARY, the new novel from Andy Weir, author of ARTEMIS and THE MARTIAN
______________________
What everyone's saying about this smart, high concept thriller:
'A smart, fun, fast-paced adventure that you won't be able to put down' Ernest Cline, bestselling author of Ready Player One
'What a page turner!' Milda on Goodreads, 5 stars
'Fast paced, high octane and highly entertaining' Chrys on Netgalley, 5 stars
'Artemis does for the moon what The Martian did for Mars' Guardian
'A first rate thriller, this had me hooked from beginning to end' Robert on Netgalley, 5 stars
'An absolute must read' Lauren on Goodreads, 5 stars
'A clever and action-fuelled story' Culturefly
'For those who loved The Martian, you won't be disappointed' Liz on Netgalley, 5 stars

Published:

16 July 2018

ISBN:

9781785030253

Imprint:

Del Rey

Format:

Paperback

Pages:

320

RRP:

$19.99
Artemis does for the moon what The Martian did for Mars. His second novel concerns a likeable protagonist in peril, saved by her own resourcefulness, in a tale that leaves readers better informed about science than they were before they read it...Plus the narrator has real charm. There's no question that this novel is going to be a hit

The Guardian
Jazz, Weir's main character, is a moon-born version of Stieg Larsson's Lisbeth Salander. She is young, rebellious and a petty criminal...Weir's great strength, as he showed in The Martian, is to make us believe. His future society living inside massive domes built not far from where Armstrong set foot in 1969 is utterly plausible.

The Times
Weir has done it again: he's created a diverse and fantastic new world, filled with eclectic and memorable characters, and woven them into a dazzling work of contemporary science fiction – one that's chock-full of actual science. Artemis is everything you could hope for in a follow-up to his smash debut The Martian: another smart, fun, fast-paced adventure that you won't be able to put down, featuring a heroine who's equal parts Ellen Ripley, Arya Stark, and Jyn Erso. I can't recommend it enough!

ERNEST CLINE, bestselling author of Ready Player One
All the things I loved about The Martian are here in spades—the hard science Weir somehow makes accessible and riveting, the masterful, never-see-it-coming plotting, but most of all the voice of his new protagonist, Jazz Bashara—an irreverent, witty, vulnerable heroine, who, just like Mark Watney, is exactly the kind of character you'll want to spend a book with. With Artemis, Andy Weir has done the impossible—he's topped The Martian with a sci-fi-noir-thriller set in a city on the moon. What more do you want from life? Go read it!

BLAKE CROUCH, bestselling author of Dark Matter
Weir's great skill, as he already proved with The Martian, is his attention to detail. Artemis is a triumph of imagination

ESQUIRE
Artemis is more than just a sci-fi caper; it's also an insight into how humans could exist on the moon — and in space.

NEW YORK POST
Andy Weir is back. His second sci-fi novel, Artemis is an action-packed techno-thriller of the first order.

USA TODAY
Jazz Bashara makes for an intriguing protagonist and Artemis is a smart and sharp novel. A sci-fi crowd pleaser made for the big screen

SALON.COM
Weir plausibly depicts near-future colonization technology, and showcases the opportunists and laborers who eke out a living in this expensive, precarious habitat.

NEW YORK TIMES BOOK REVIEW
This exciting, whip-smart thrill-ride boasts a wonderful cast of characters, a wide cultural milieu and the appeal of a striking young woman as the main character...one of the best science fiction novels of the year!

BOOKLIST (Starred Review)
It's a great read, as much of a page-turner as The Martian was... the characters are engaging, the setting understandable and the pace begins fast and continues throughout to the end.

SFFWORLD.COM
A fast-moving heist set on the Moon

SFX
Artemis is a fantastic view into what it would be like to live and work on the lunar landscape, wrapped up in smart and gripping novel. A must-read for any future lunar dwellers.

SKY AT NIGHT MAGAZINE
Artemis is the book that proves Weir is the heir to the mantle of classic science fiction master. An addictive, fast-paced read, perfect for a long journey or a bit of daily escapism. If you're after a moon adventure...book a flight to Artemis today.

STARBUST
Narrated by a kick-ass leading lady, this thriller has it all – a smart plot, laugh-out-loud funny moments, and really cool science. A four-star read

LIBRARY JOURNAL (Starred Review)
A superior near-future thriller...the sophisticated world building incorporates politics and economics, as well as scientifically plausible ways for a small city to function on the lunar surface. The independent, wisecracking lead could easily sustain a series. Weir leavens the hard SF with a healthy dose of humour.

PUBLISHERS WEEKLY (Starred Review)
Revitalizes the Lunar-colony scenario, with the author's characteristic blend of engineering know-how and survival suspense...Jazz is a great heroine, tough with a soft core, crooked with inner honesty

WALL STREET JOURNAL
Artemis stands on its own as an enjoyable thriller...especially as tension mounts towards the end. It's an easy read, and Weir's introduction of plenty of thought-through science and engineering makes it a pleasure for those who like their science fiction as close as possible to physical reality

POPULAR SCIENCE
Weir's action-packed second novel stars tough antihero Jasmine (Jazz) Bashara and offers a gratifyingly thrilling plot (two words: moon heist) while providing enough hard science that you'll finish the book feeling like an expert in metallurgy, lunar surface exploration and the limitations of EVA suits

CNET UK
Out-of-this-world storytelling

HOUSTON CHRONICLE
a breezy, propulsive read…Weir has set an action-adventure in space, where a resourceful protagonist improvises scientific solutions to escalating dangers

NRP.ORG
Andy Weir does for the Moon in Artemis what he did for Mars in The Martian – that is, he incorporates a solid mix of known technology and science with a bit of tech-fiction to further enhance a great story. In this case…it's a great caper.

GEEKDAD.COM
An entertaining read for space geeks, and a strong follow-up to The Martian.

SPACE.COM
A hit like The Martian is hard to follow-up, but it seems Andy Weir has no trouble keeping the good ideas coming, producing another yet novel with realistic hard science and entertaining adventure…a speculative genre that blends thrilling adventure and fun with realistic and believable science… The action crescendos and doesn't stop until we reach a boiling point in the climax, giving rise to some of the most intense chapters I've ever read, with the added bonus of making you want to fistpump the air yelling, 'GO SCIENCE!'

BIBLIOSANCTUM
[A] riveting space adventure…grounded in science, but…wrapped around the tale of a crime and set at the first and only city on the moon

COLLECTSPACE.COM
Weir has done so much research and put so much thought into his new story, he makes what's currently impossible sound possible

IO9.GIZMODO.COM
Set in Artemis, a city on the moon, this thriller by the author of The Martian features a young woman caught in a high-stakes criminal plot. Plus fun science-based details of moon-living logistics

AARP
A fun page-turner which should appeal to fans of sci-fi, not to mention anyone who digs a good caper

AM NEW YORK
Richly detailed

DAILY CALIFORNIAN
a lively read that combines some of The Martian's space-science themes with elements of political intrigue, heist plotting, a dash of neo-noir, and…the economic implications of lunar colonization—all with some comedy throughout

TWINCITIESGEEK.COM
After managing to bring hard, accurate science to the masses with The Martian, Andy Weir cuts loose with a lunar-set heist caper that should both please those who enjoy his attention and those who fell for his obvious ability to spin an entertaining yarn. The city of Artemis is meticulously constructed...it's a living, breathing place that's fun to explore and Jazz makes for an excellent guide. A SF thriller that wants you to have fun and it delivers

SCI FI NOW (Must Read Now)
Weir has written yet another clever and action-fuelled story packed with the author's trademark wry humour and fast-paced science. Artemis is pure entertainment - a fun and adventurous book brimming with wit, intelligence and ingenuity

CULTUREFLY
Weir excels when it comes to geeky references, snarky humour and scenes of ingenious scientific problem-solving

FINANCIAL TIMES