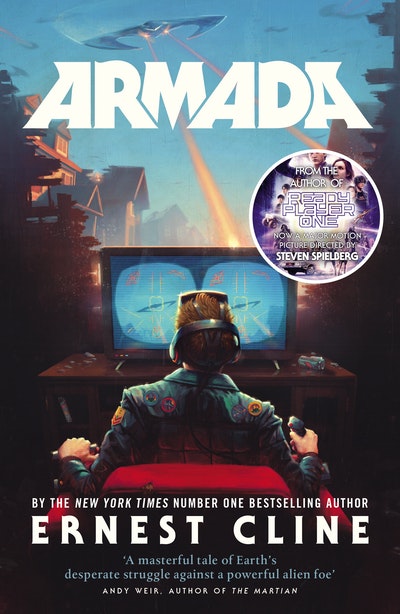 Published:

2 May 2016

ISBN:

9780099586746

Imprint:

Arrow

Format:

Paperback

Pages:

368

RRP:

$22.99
Armada
From the author of READY PLAYER ONE
---
---
---
FROM THE BESTSELLING AUTHOR OF READY PLAYER ONE, NOW A MAJOR MOTION PICTURE DIRECTED BY STEVEN SPIELBERG
From the bestselling author of Ready Player One, now a major film directed by Steven Spielberg'[A] masterful tale of Earth's desperate struggle against a powerful alien foe.' - Andy Weir, bestselling author of The Martian_________________________________________It's just another day of high school for Zack Lightman. He's daydreaming through another boring math class, with just one more month to go until graduation and freedom - if he can make it that long without getting suspended again.
Until a military spaceship touches down outside his school, and Zack learns that Armada - the alien invasion video game he plays every day of his life - is secretly a recruitment program for the pilots who will save the world.
Because the aliens are real. And they're coming.
But even as Zack and his new comrades scramble to prepare for the invasion, Zack starts to recognise things - elements from the sci-fi movies, shows and games he grew up with - and the whole scenario begins to feel. familiar.
Adventure, action and a dizzying world of pop-culture nostalgia - Ready Player One author Ernest Cline does it again!_________________________________________Here's what everyone's saying about the epic follow-up to READY PLAYER ONE:'a modern classic' - R.M. Rangeley on Amazon, 5 stars'A modern masterpiece full of a new style of literary magic' - Spiros Kagadis on Amazon, 5 stars'Excellent. Even better than Ready Player One.' - David Hay on Amazon, 5 stars'One of my favourite books of all time. Incredibly well written' - Erin Coppin on Amazon, 5 stars'Awesome! If you liked Ready Player One, would be very surprised if you don't like this' - T. Llewellyn-Sanders on Amazon, 5 stars'Absolutely awesome!!! Read in less than 24 hours, hooked on every page' - R. Nicholson on Amazon, 5 stars'Amazing and a great follow up read to Ready Player One!' - Chris on Amazon, 5 stars'an incredible story which had me on the edge of my seat the whole time. a joy to read' - Helen Ratcliffe on Amazon, 5 stars'Cline brings you back to all those amazing, unbelievable things you imagined could happen as a kid and makes them real' - Amazon reviewer, 5 stars'Absolutely brilliant! Couldn't put it down, a must read' - Sam Bean on Amazon, 5 stars'a love letter to old school alien invasion sci-fi... Highly, HIGHLY recommended for all fans of Cline's previous novel, Ready Player One, as well as any classic science fiction fan' - Izzy on Amazon, 5 stars'Ernest Cline is celebrating this culture in a way that's not just adding another book to the genre, but actually truly celebrating it, the possibilities, wonders and madness of it all' - Heather on Amazon, 5 stars'majorly, fantastically geeky. Armada just ticked all my boxes' - H. Ross on Amazon, 5 stars
Published:

2 May 2016

ISBN:

9780099586746

Imprint:

Arrow

Format:

Paperback

Pages:

368

RRP:

$22.99
A novel so fun, you'll want to reboot it and read it again…the best novel this gamer geek has read in a long, long time.

Hugh Howey, Sunday Times bestselling author of Wool
Those conspiracies you imagined when you were fourteen turn out to be true in this masterful tale of Earth's desperate struggle against a powerful alien foe.

Andy Weir, bestselling author of The Martian
Another geektastic celebration of the nerd and nerd culture…Really clever, really captivating.

Daily Mail
A thrilling coming-of-age story.

Entertainment Weekly
Built like a summer blockbuster…Cline recombines the DNA of Ender's Game, Star Wars, The Last Starfighter, and old-school arcade games like Asteroids into something that's both familiar and unpredictable. It's a mutant homage to sci-fi tropes past.

Gawker
Expect Cline's blend of masterful storytelling filled with nerdy references…with twists that'll have you turning the pages like there's no tomorrow.

Shortlist
All round a cracking title and for me, a definite Sci-Fi favourite of the year.

Falcata Times
Must-read summer blockbuster novel.

Mashable UK
Compelling…a love letter to the eighties.

Sci Fi and Fantasy Reviews
It's epic, it is majorly, fantastically geeky, full of wonderful pop culture references and most of all it is just an amazing joy to read…I loved this, it is one of these rare books that lives with you afterwords, one to be discussed over and over again, it is a modern classic.

Random Redheaded Ramblings blog
In a style all his own, Cline takes his readers on another exciting, charming, mysterious, heartwarming, geek-fueled ride.

The Geeko
A solid sci-fi romp.

Starburst
A work of geeky wonder

Wonderland Avenue Book Blog
Massively entertaining

Following the Nerd
An enjoyable romp.

Tor
Definitely worth the wait

Rinn Reads
Fun, fast paced, action focused plot with massive appeal in terms of huge doses of pop culture references.

Lynn's Book Blog
Video games come to life in this witty, extraterrestrial thriller

New York Post
Cline once again brings crackling humor and fanboy knowledge to a zesty, crowd-pleasing, countdown-clock, save-the-planet tale featuring an unlikely hero, adrenaline-pumping action, gawky romance, and touching family moments.…Cline's sly, mind-twisting premise and energetically depicted and electrifying high-tech battles make for smart, frenetic, and satisfying entertainment.

Booklist
The obscure and the popular bounce around in Cline's head like asteroids in the classic arcade game of the same name. And when these references are combined with Cline's fantastic storytelling ability and manage to find their way onto a blank page, something special happens.

Chicago News
Another cracking adventure…a fun, affectionate homage to gaming, gamers and big splodey sci-fi action, and you'll read it with a grin on your face. And maybe shed a couple of tears, too. It definitely deserves a place in your suitcase this summer.

Geek Planet
A quick witted, action-packed, nerdy dedication to the little gamer inside me. I thoroughly enjoyed this book…A definite recommendation to anyone!

The Blogger's Bookshop
Cline's cast of characters and dialogue in Armada is superb. It's action packed and the pace is relentless making for a fast read… Armada is heaps of fun and well worth the trip down memory lane.

British Science Fiction Association
The writing is fluid, filled with brilliant dialogue, a solid cast and lots of action…hugely enjoyable, especially the big dose of 80s- esque story that Armada serves up. It's straightforward fun with little twist or turns but just like the movies it references, it's awesome.

The Bookbeard's Blog
This book is absolute geek heaven

Brit Book Boy
An extremely cool and quirky science fiction adventure, stacked full of hilarious and fitting pop culture references. Cline has created a fast paced and engaging story using a perfect blend of humour, futuristic tech and video-game like action sequences.

Brit Book Boy
Ernest Cline is a genius in every sense of the word…This was truly wonderful, everything I had hoped it would be, and then heaps and heaps more.

Tea and Book Reviews
Release your inner nerd and rejoice!

The Fancy Octopus
Armada is a gamer's fantasy come true.

Read at Midnight
thriller-like plotting…immensely readable

SFX
It's a hoot, from beginning to end

Christoria
Literally everything I could ask for

Emma's Bookery
A highly rewarding journey…thoroughly enjoyable fiction.

SF Book
Armada is a journey towards emotional intelligence and understanding, a journey towards some questions answered, others posed – huge questions they are too. Armada's a good 'un.

Frost
A surprising thriller, a coming of age, space-fighting adventure which will thrill sci-fi fans and gamers alike.

Metro
It is often said that the best novels are those that don't waste any time – the ones that grip the reader from the very first line. Armada does this better than perhaps any other book I've read.This book is a love-letter to the science fiction genre. It's a concentrated shot of sci-fi nerdery that's definitely worth experiencing.

One Giant Read
Armada is fun, so go enjoy it for the first time… or the second.

Geekdad